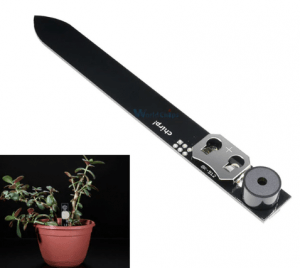 Staat je plant droog?
Het is een van de standaard voorbeelden die je tegenkomt als je met Arduino of ESP8266 aan de slag gaat: gebruik het apparaat om te meten of je plant water nodig heeft. Ik bouwde er een paar jaar geleden ook eentje.
Goedkoop is duurkoop?
De goedkope sensor die ik toen gebruikte werkte niet heel lang. Pas een tijd later kwam ik (alweer) een leerzame video van Andres Spiess tegen over dit onderwerp inclusief een sensor die wél zou moeten kunnen werken zonder zichzelf om zeep te helpen. Ik weet dat ik die sensor toen gezocht heb maar dat hij redelijk aan de prijzige kant was. Sowieso was het exemplaar dat Andreas getest had eentje waarbij je ook nog een ESP8266 moest aansluiten, voor een stroombron moest zorgen, aan het netwerk moest koppelen etc.
Ik heb het toen even gelaten voor wat het was. En eerlijk gezegd was ik de video ook weer vergeten.
Chirp!
Afgelopen week echter kwam ik  op AliExpress echter de sensor tegen die je hierboven ziet. Qua model vergelijkbaar met die van Andreas. Maar deze had een houder voor een knoopcelbatterij, een piezobuzzer én iets wat ik met een beetje (flink) inzoomen herkende als een ATtiny44A. Hmmm, interessant….
Voor het thuisfront was deze sensor al voldoende. Daar was niet echt behoefte aan een sensor die aan het netwerk aangesloten was. Als de sensor zou "chirpen" als de plant te droog was, dan was dat meer dan voldoende. En voor €1,55 inclusief verzendkosten was dat ook geen geld. Of ik er 3 wilde bestellen.
Ik had toen nog niet gezien dat op de afdruk ook de tekst "chirp!" staat. Waarom dat er toe doet, bleek pas toen ik ging kijken of ik meer informatie kon vinden over de sensor. Deze moest vast te hacken zijn, toch?
Hacken?!
Hoezeer de sensor te hacken was, ontdekte ik al snel. Ik kwam namelijk bij deze pagina van wemakethings. Zij blijken de oorspronkelijke ontwikkelaars van de "chirp!". Het was hun bewuste keuze om het ontwerp van de sensor als open hardware beschikbaar te stellen en de firmware van de chip als open source software. Open, deelbaar, hackbaar, reproduceerbaar. Eerst even naar dat hackbare. De sensor heeft in de originele versie 6 open "gaten" op de sensor zitten. De AliExpress versie heeft de gaten dicht, maar zo te zien met soldeer, dus ook bruikbaar. De officiële site legt uit dat je een header op die gaten kunt aansluiten en ze dan als volgt dienst doen:
pin 1 – MISO
pin 2 – VCC
pin 3 – SCK / SCL – I2C clock
pin 4 – MOSI / SDA – I2C data
pin 5 – RESET
pin 6 – GND
Met deze 6 pinnen ben je niet alleen in staat om de ATtiny44A van gewijzigde firmware te voorzien (de huidige firmware is net als de schema's voor de PCB op github.com te vinden) maar de sensor gedraagt zich ook als een I2C slave. Als je niet weet wat I2C is, lees dan even dit bericht. Dan heb je maar 2 van de 6 pinnen nodig (pin 3 en pin 4). Wil je deze sensor, bijvoorbeeld via een ESP8266, wél aan de Wifi hangen (waarbij de stand-alone functionaliteit behouden blijft), dan kan dat via die I2C verbinding. Cool toch?
Open source = funest voor kleine ontwerper/verkoper?
Maar….de AliExpress kloon is 100% legaal, feitelijk niets op af te dingen, het bedrijf doet wat de makers mogelijk maken: een heel goedkope versie van de chirp! produceren en verkopen.
Ja maar, het principe van "bedank de bedenkers van mooie dingen voor hun inspanning"?
Nou, die zou ik hier ook graag toepassen, maar dat wordt niet heel gemakkelijk gemaakt. De "officiële" chirp! kost via Tindie namelijk het mooie bedrag van $15,- excl. $5,- verzendkosten. Dat is €18,34 incl. verzendkosten als je via Paypal betaald. Dat is bijna 10x meer dan bij AliExpress, daar is het bedrag €1,88 per stuk incl. verzendkosten.
Ik vrees dat de makers er dus niet heel veel meer zullen verkopen. En dat is eigenlijk wel een vervelend neveneffect van open source hardware en het bestaan van zo veel Aziatische bedrijven die dit soort producten goedkoop in massa kunnen produceren.
Experiment
Goed. Ik heb het voor mezelf als experiment verkocht met twee vragen:
Wie is sneller qua leveren, de oorspronkelijke leverancier vanuit de VS via Tindy of de leverancier via AliExpress?
Zit er verschil in kwaliteit tussen beide producten? Zijn ze qua ontwerp identiek en functioneel gelijk?
Ik heb dus 1 exemplaar via Tindie besteld en 4 exemplaren via AliExpress (3 om in gebruik te nemen en 1 zodat ik van beide een exemplaar had om mee te experimenteren). Het kan van beide bestellingen even duren voordat ze binnen zijn (en voordat ik tijd heb om ermee te experimenteren) maar wordt vervolgd.