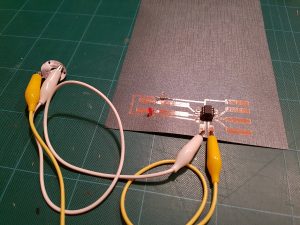 It was one of those things that had been on my "Things I really want to do myself someday" list for a long time. I had seen it being explained by Per-Ivar in detail (in English and in Dutch) and the crazy Christmas card in 2017 that Per-Ivar and Arjan made in 2017 is legendary as far as I'm concerned (crazy in a good way as in "who comes up with the idea to create 50 of these and actually does it?!).
Per-Ivar had been so kind to send me a sticker to try myself. I still have it because I didn't want to use it up and instead used it to show people the concept. Testing copper tape for paper circuits was something that I had already tried, together with the kids. But I decided that it was finally time to try to create electronic copper circuit stickers myself.
This post is nog going to be a step-by-step tutorial to follow along, but I will explain the process and link to the resources that I used during the process. Adding on to the information already out there.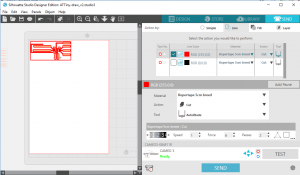 Two tips before you try it yourself: #1 get to know your vinyl cutter and the software that goes with it before you try copper tape. You will need to figure out the pressure, knife settings, speed etc. for the copper. You need to be comfortable weeding delicate materials. It helps to know the ins and outs of the software so you can make the needed adjustments, test the settings etc.
Tip #2: go for slow, not too much pressure, make it cut twice.
Figure out the correct cut settings
If all you wanted to get from this post are the settings in Silhouette Studio, see the image on the right:
Blade: 2; Speed: 1; Force: 6; Passes: 2; Overcut: No; Track Enhancing: No
You can find setting like this by making a small design, like a box with the intended line width and then cut it out and try to weed it. Was the cut too deep (and did you go through the backing?), not deep enough (then it won't weed), depending on the result, change the cut force of blade depth, move the box to an uncut part of the tape and try again. This can be a long process. Make sure you save the settings as a new material type for later use.
I noticed that with difficult material, getting the speed down and instead make multiple passes improves the chance of succes. Unlike what I saw Arjan do, it did use the cut mat *and* some tape to keep the copper in place.