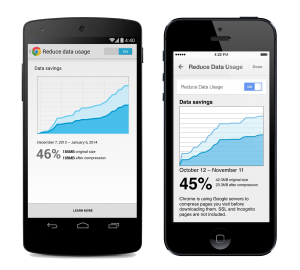 Het bericht stond vanochtend op veel blogs: de nieuwe versie van Google Chrome for Mobile krijgt ingebouwde functionaliteit waarmee je de verbruikte bandbreedte kunt verlagen. Het is niet de eerste mobiele browser die deze functionaliteit krijgt, Opera Mini had dat al heel lang.
Hier en daar zag ik iemand die de durf had om de vraag te stellen "willen we dat eigenlijk wel?", maar in het algemeen bleef dat aspect erg onderbelicht. Want hoe kan Google Chrome for Mobile de hoeveelheid dataverkeer die het jou kost verminderen? Nou, door tussen jou en de websites die je bezoekt in te gaan zitten. Als jij een webpagina opvraagt, dan loopt dat verzoek via de Google server, die haalt de pagina op, comprimeert hem/optimaliseert hem waar nodig en stuurt hem dan naar jou door.
Het voordeel voor jou is dan dat het dataverkeer waar jij voor betaald (dus tussen Google en jouw tablet of smartphone) kleiner in omvang is dan anders. En dat kan je uiteindelijk geld schelen of zorgt er in ieder geval voor dat je pagina's sneller binnen krijgt.
Maar…het betekent ook dat Google gegarandeerd je complete browsegeschiedenis binnen krijgt. Veel mensen hebben dat nu ook al aan staan, dus voor hen maakt het niet uit. Maar voor anderen is het toch wel even iets om aan te denken. Wat Google doet met die kennis? Wellicht niets. Wellicht gebruiken ze het om het 'profiel' dat ze van ons hebben te optimaliseren. Ik zag één reactie van iemand die zei dat hij advertenties zag op een pagina die er oorspronkelijk geen hadden. Geen idee of dat klopt, maar het is technisch natuurlijk mogelijk. En in de algemene voorwaarden zal zoiets dan vast netjes staan vermeld (ergens in de hele grote hoeveelheid kleine lettertjes).
Het is (op dit moment) nog niet beschikbaar in de reguliere versie op iOS, maar ik denk dat ik de feature voorlopig ook maar even uit laat staan. En jij? Geen probleem of wel?