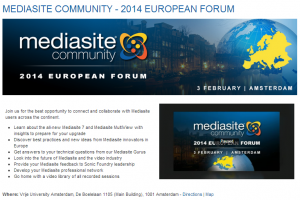 Op 3 februari 2014 vindt in Amsterdam de derde editie plaats van de Mediasite Usergroup European Forum (zie hier een kort verslag van die van vorig jaar, in 2012 verzorgde ik een Pecha Kucha tijdens de eerste editie).
Ook dit jaar zijn de Nederlanders weer goed vertegenwoordigd. Sylvia Moes, Project Manager & Media Innovation Manager van de Vrije University verzorgd een sessie, het UMC Utrecht/Elevate Health (nog geen naam van de spreker) verzorgd een sessie en ik het gevecht aan met de bitterballen en de drank tijdens de afsluitende show & share postersessies. Mijn sessie:
Advanced Learning Analytics using Mediasite and R Software
Mediasite offers extensive analytics to generate detailed usage reports for your Mediasite presentations, lectures and videos. But what if the available reports do not provide all the answers to your viewership and usage questions? What if you want to combine student and presentation data in different ways? Pierre will show how he has used the freely available R software (www.r-project.org) with Mediasite's data exports to create custom reports that contain exactly the information he needs. He'll also share his use of Mediasite's EDAS (External Data Access Services) API to automate the process even further.
Deelnemen of aanwezig zijn is (nu nog) gratis. Schrijf je voor 20 januari in via de website en dan neem je gewoon een bitterbal mee als je naar mijn verhaal komt luisteren op het einde! 😉