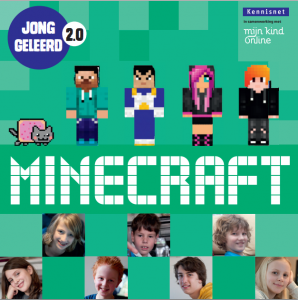 Via Tessa van Zadelhoff kwam ik vanochtend via een bericht van Kennisnet bij de gratis publicatie Jong Geleerd 2.0 : Minecraft (PDF!).
Ik heb hier op het blog wel al vaker over Minecraft geschreven, maar het is een leuke publicatie waarbij vooral ook de (Nederlandse) Minecraft gebruikers zelf aan het woord komen. Tien kinderen, de jongste 7 jaar en de oudste 14 jaar vertellen over wat zij in Minecraft doen. Daarnaast komen er basisbegrippen en kort een aantal lesideeën aan bod. Het is een leuke vorm van uitleggen, want in de verhalen van de kinderen komen heel wat 'complexere' Minecraft zaken aan bod, zoals het gebruik van eigen servers (en het indien nodig 'bannen' van andere spelers), of het gebruik van redstone, maar ook het verschil tussen de java applicatie en de app voor de iPad, het maken van filmpjes en het maken van nieuwe games binnen Minecraft. Het komt nu heel luchtig allemaal even langs.
Als je als ouder dus geen idee hebt waar je kinderen mee bezig zijn als ze Minecraft spelen (zou je je eigenlijk als ze nog die leeftijd hebben toch echt wel een beetje in moeten verdiepen) of als je als meester/juf/docent voor een groep staat en het niet weet, dan zou ik deze publicatie zeker downloaden en lezen. Na afloop weet je zeker niet alles, maar mogelijk heb je wel al het basis vocabulaire onder de knie om er dan met je kinderen of leerlingen verder over te praten. Ze leggen het je graag verder uit hoor!