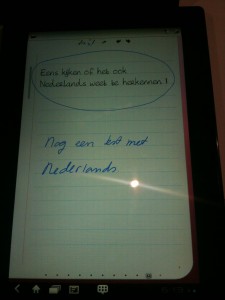 Ik heb bij de stand van Lenovo even kunnen spelen met de ThinkPad Tablet. Ik schreef eerder al over de ThinkPad Tablet en vroeg me toen af of het product niet ook voor het onderwijs geschikt was.
De vertegenwoordiger van Lenovo gaf aan dat voor het onderwijs en de "business" user heel dicht bij elkaar lagen, dus ja, wat hen betreft was hij ook geschikt voor het onderwijs.
Dé feature waar ik uiteraard nieuwsgierig naar was, was natuurlijk de penfunctie en de tekstherkenning. Mijn eerste vraag was "doet hij ook Nederlands?". Hij gaf heel eerlijk aan dat hij dat niet wist, maar zocht het even op en er blijkt ondersteuning voor een groot aantal talen in te zitten, inclusief het Nederlands.

Dus hebben we hem omgeschakeld naar het Nederlands en heb ik twee stukjes geschreven. Je ziet op de afbeelding een stukje dat al (foutloos!) herkend was en een stukje dat ik net geschreven had (en nog niet herkend is) en dat eveneens foutloos herkend zou worden. Ik vond het indrukwekkend gezien mijn toch niet al te duidelijke handschrift.
Ik moet morgen toch nog even langs de stand terug, want de vertegenwoordiger gaf aan dat de tablet ook in Nederland te koop zou zijn. En hij ging er vanuit dat het dan gewoon om $499 zou gaan (maar dan in euro's uiteraard). De enige sites waar ik de tablet nu in Nederland zie staan (voor zover ze hem dan al op voorraad hebben), rekenen prijzen van 600 euro of (veel) meer. Dat is natuurlijk een beetje veel. Een prijsbereik voor de basistablet van 300-400 euro (dus omgerekend vanaf die $499) zou wel eens een verkoophit kunnen opleveren.
p.s. de foto is wat donker, hij is gemaakt met mijn iPhone 3GS, bij gebrek aan een nieuwe 4S.