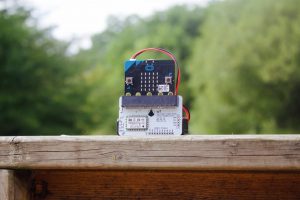 Sinds de Micro:bit beschikbaar kwam is er een groot aantal accessoires op de markt gekomen die het kleine, oorspronkelijk op het onderwijs gerichte, apparaatje eenvoudiger koppelen met andere hardware. Zie bijvoorbeeld deze pagina bij Kitronik. Soms kan ik me er heel wat bij voorstellen. Neem bijvoorbeeld dit boardje om als batterij een knoopcel te kunnen gebruiken (en een buzzer toe te voegen). Dan voeg je 5 GBP toe aan de kosten, maar heb je wel een heel compacte setup.
De GAME ZIP 64 is dan weer zo'n accessoire waar ik wat meer vraagtekens bij heb. Die kost bijna 40 GBP en dan krijg je "the ultimate retro handheld gaming platform for the micro:bit". Niet alleen is die prijs enorm (ruim 2x meer dan je voor de Micro:bit betaald) maar het wordt natuurlijk nooit een echt ultiem retro handheld gaming platform.
Datzelfde heb ik bij de Kickstarter van PiSupply. Daar kun je onder andere een boardje 'kopen' (afhankelijk van of ze hun doelbedrag halen) waarmee je van je Micro:bit een node in het LoRaWAN netwerk van The Things Netwerk kunt maken. De Early Bird kosten van dat geheel, inclusief verzendkosten naar Nederland bedragen omgerekend 36 euro. Ook dat is een stevig bedrag, maar ook hier heb ik de vraag of LoRaWAN op een Micro:bit zinvol is. De reden dat je LoRaWAN gebruikt is als je weinig data hoeft te versturen, mogelijk niet binnen bereik van WiFi bent, 4G een (te) dure optie is én als je weinig vermogen wilt gebruiken. Dus als je apparaten wilt maken die zo lang mogelijk op een batterij meekunnen. En als ik iets geleerd heb van de talrijke video's die Andreas Spiess gemaakt heeft over het onderwerp (zeer de moeite waard overigens) dan is het dat ook gewone ontwikkelborden, dus borden waar de LoRa chip en processor al geïntegreerd meestal niet zo geoptimaliseerd zijn als kan. Logisch, je ruilt eenvoud van gebruik in voor meer stroomverbruik.
Dan zie ik liever de constructies zoals Pauline Maas ze in Eindhoven bij de Maker Faire gebouwd had. Soms wat gelikter met onderdelen uit de 3D printer, andere keren gewoon met karton of met een 5 cent muntje als koppeling tussen meerdere kabels met krokodilbek. Niet iets wat je gebruikt voor een constructie die meerdere maanden/jaren zonder problemen moet werken. Maar voldoende voor een tijdelijk project of een prototype.
Laat ik positief afronden. Ik heb de Kickstarter gebackt voor 1 node. Nog even wachten tot maart 2019, áls ze hun deadline halen natuurlijk. Ik bestel hem, zal hem testen en laten horen hoe goed hij werkt. Als test, niet als ding dat ik permanent ergens ga installeren.