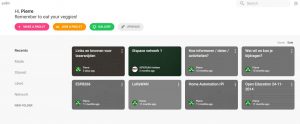 Nee, ik ben niet boos. Maar veel andere mensen blijkbaar wel. En ik snap het ook wel een beetje. Padlet heeft namelijk onlangs haar gratis aanbod drastisch naar beneden bijgesteld.
Als nieuwe gebruiker mag je nu nog maar 3 padlets aanmaken in het gratis plan. Voor bestaande gebruikers ligt het er aan hoe veel bestaande padlets je al had. Ik heb geluk, mijn quotum ligt op 41 padlets. Wil ik er meer dan moet ik overstappen op het betaalde plan.
Weer een bedrijf dat gaat voor het grote geld? Nou, niet echt. ik werd via Richard Byrne gewezen op de uitgebreide uitleg van de baas van Padlet (en toen pas zag ik dat voor nieuwe gebruikers het aantal zo laag lag). Een van de dingen die in het bericht staat is dit:
We are a 6 person company of 5 super talented people: 3 engineers — SY, Linh, and Colin; 1 designer — Gerard, 1 support person — Carla. And then there's me. Close to 10 million people come to Padlet every month. That's 3 million people for every engineer to support every month. Carla answers over a 100 emails every day.
Oef. Dat zijn heel weinig mensen om een dienst betrouwbaar in de lucht te houden, gebruikers te ondersteunen en functionaliteit toe te voegen.
[…]
Je ziet het niet aan de blogpost, maar terwijl ik hem zat te typen realiseerde me dat ik meer wilde doen dan alleen de makers een hart onder de riem steken middels dit bericht. Dus heb ik mijn account omgezet naar een betaald account. Hoeveel jaar ik die $99 per jaar wil betalen? Geen idee. Maar minimaal voor het eerste jaar.
En eigenlijk is het simpelweg te hopen dat voldoende andere mensen dat ook doen. Lees de uitgebreide uitleg, beslis voor jezelf.
Ik gebruik Padlet soms een maand of twee niet, maar als ik snel een overzicht van bronnen wil maken dat er ook aantrekkelijk uitziet als je deelt, dan wel. Bijvoorbeeld deze: https://padlet.com/PiAir/lasersnijden
Daarom dus.