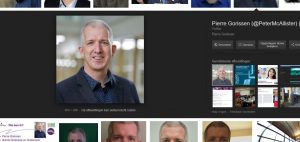 Goed, eigenlijk zou ik blij moeten zijn van de aanpassing die Google afgelopen week doorgevoerd heeft in haar zoekpagina voor afbeeldingen. Als onderdeel van de afhandeling van de schikking met Getty Images heeft Google namelijk toegezegd om duidelijker te maken dat er auteursrecht rust/kan rusten op afbeeldingen die je via Google kunt vinden én ze hebben de knop verwijderd waarmee je de afbeelding buiten de context van de pagina waar hij op staat kon bekijken.
En daar zou ik blij mee moeten zijn omdat dit een té handige manier voor veel docenten, studenten en mensen die in het onderwijs leermateriaal maken. PowerPoint maken met afbeeldingen? Even zoeken in Google en dan knippen en plakken in de presentatie. Plaatjes voor een verslag of een stukje (online) lesmateriaal? Idem.
Wil je die PowerPoint, dat verslag of lesmateriaal daarna breder delen dan gaat het mis. Je moet dan namelijk minimaal voor al die afbeeldingen gaan controleren of er auteursrecht op zit, of er bijvoorbeeld een Creative Commons licentie op zit etc.
Het is dus veel handiger als dat meteen al vooraf gedaan is, de nodige bronvermelding beschikbaar is etc.
Natuurlijk, wie een beetje weet hoe een browser werkt, weet dat een rechtermuisklik op de afbeelding en kiezen voor "Afbeelding openen in nieuw tabblad" genoeg is om alsnog de afbeelding te bekijken.

En natuurlijk is er ook al een oplossing in de vorm van een plugin voor Google Chrome en Firefox. Handig, dat wel, maar eigenlijk zou het mooier zijn als ze duidelijker zouden aangeven wat het auteursrecht op een afbeelding daadwerkelijk is (voor zover bekend).
Dat zal niet zo gemakkelijk zijn als dat het bij Wikipedia is, maar daar heb je wel een situatie waarbij je daadwerkelijk van mensen mag verwachten dat ze op een juiste manier melding maken van het bijbehorende auteursrecht. De screenshot hieronder is van een foto van Sasha Krotov.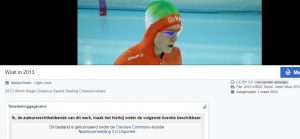 Ik snap het dus als mensen niet blij zijn met de aanpassing. Het zal de rechthebbenden wellicht (een beetje) tevreden stellen, maar "gewone" gebruikers zullen het zien als "lastig".