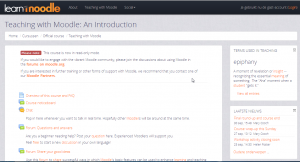 Als je als docent, als vakgroep of als onderwijsinstelling aan de slag wilt met een MOOC of een variant daarop, loop je al snel tegen de vraag aan "op welk platform moeten/kunnen we die aanbieden?". Natuurlijk, je kunt kijken of je bij Coursera aan kunt sluiten, of je kunt met de open source versie van edX aan de slag. Maar zou het niet kunnen met tools die je mogelijk al gebruikt? Bijvoorbeeld met Moodle? Bij Moodle zelf denken ze in ieder geval dat dat wél moet kunnen. En de beste manier om dat te bewijzen/uit te proberen was inderdaad door gewoon zelf een MOOC te organiseren die gebruik maakt van Moodle. En het meest logische onderwerp voor zo'n eerste MOOC mét Moodle is dan natuurlijk het gebruik van Moodle zelf. De MOOC "Teaching with Moodle" heeft afgelopen september al plaats gevonden, maar ik heb hem toen in ieder geval gemist. Hij staat nu no online als archief, maar nog maar een paar dagen. Blijkbaar wordt hij 1-1-2014 offline gehaald. Dus als je nog wilt kijken, dan moet je snel zijn!!
De MOOC liep 4 weken lang, dat is relatief kort. Elke zondag vond er een Google Hangout on Air sessie plaats waarbij live uitleg gegeven werd door de docenten. Deze streams werden dan opgenomen en online bewaard in YouTube. Als het goed is blijven die video's/opnames wel nog staan na 1 januari. Ik heb ze in ieder geval nog niet allemaal kunnen bekijken.
De MOOC ziet er goed uit, d.w.z. er is een mooie variatie in werkvormen in opgenomen. Qua uiterlijk ziet hij er ook niet slecht uit. De skin die er voor gebruikt is, kun je hier downloaden.
Ik vind het wel jammer dat de PowerPoints die gebruikt worden tijdens de lessen niet ook gewoon opgenomen zijn in de omgeving. Dat maakt terugzoeken van bepaalde punten een stuk gemakkelijker. Zo weet ik dat ze in week 2 hebben aangegeven hoeveel mensen zich aangemeld hebben (ik geloof ruim 8.000 deelnemers), maar in de video-opname van week 2 is dat wat moeilijker terug te vinden.
Lees verder….