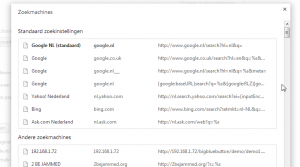 De Google Chrome adresbalk (hij blijkt Omnibox te heten) heeft als handige eigenschap dat je er niet alleen een adres van een website in kunt vullen, maar dat je er ook mee kunt zoeken door er trefwoorden of een zoekterm in te vullen. Vervelend was echter dat gisteren dit opeens niet meer werkte. En niet op één machine, maar op al mijn computers. En niet alleen in de gewone 'productieversie' van Chrome, maar ook in mijn 'Canary' versie.
De oorzaak lag in de combinatie van de Google Chrome synchronisatie van instellingen en de instelingen voor de Zoekmachine die gebruikt wordt voor de Omnibox. Daar was (ik weet niet hoe) iets mis gegaan in de instellingen. Je kunt die vinden via Instellingen > Zoekmachine beheren in Google Chrome. Je krijgt dan een overzicht zoals in de afbeelding bij dit bericht. Of eigenlijk, als het niet goed gaat krijg je waarschijnlijk zo'n afbeelding. Want de URL die bij mijn standaard zoekmachine staan waren niet goed meer. Daar moest staan: http://www.google.nl/search?q=%s en in plaats daarvan stonden er een aantal verwijzingen naar Google met verschillende (onjuiste) URLs. Daardoor werkte het zoeken niet meer. Verwijderen van de onjuiste verwijzingen en aanpassen van de default verwijzing zorgde er voor dat het probleem gelukkig verholpen was.
Vervelend is dat de wijziging niet automatisch doorgevoerd leek te worden naar de andere computers, dus heb ik het maar even met de hand overal aangepast.