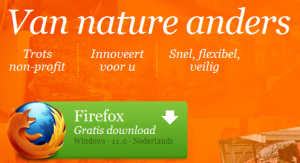 Iedereen die al eens een tutorial of training over HTML5 video of audio gevolgd heeft, die weet het: het wordt allemaal "eenvoudiger", er is geen plugin meer nodig. Maar het heeft wel als gevolg dat we allemaal minimaal 2 verschillende versies van de video of de audio beschikbaar moeten stellen. Ehm, eenvoudiger?
Ja, zonder op de technische details in te gaan, het leven is nog niet eenvoudiger geworden met HTML5 video en audio. Hoewel veel mensen blij zijn dat we niet langer afhankelijk zullen zijn van een Flash-plugin om video af te spelen, is het zo dat er tot op dit moment niet één video- of audio-formaat (en dan heb ik het over een combinatie van container + codec) is dat door alle browsers op de desktop en mobiel ondersteund wordt.

De drie belangrijke combinaties (containter/codec) voor video zijn: Ogg/Theora, MP4/H.264, WebM/VP8.
Daarvan is WebM/VP8 helemaal vrij van licenties, MP4/H.264 is dat niet, maar die heeft zware ondersteuning van Apple via al hun mobiele devices, Ogg/Theora heeft wat slechtere kwaliteit dan de andere twee.
Vanwege de licenties en de mogelijke kosten die op termijn als gevolg daarvan doorberekent zouden moeten worden, hadden Firefox en Opera tot op dit moment geen ondersteuning voor MP4/H.264. Firefox geeft nu uitgebreid uitleg waarom ze daar nu toch verandering in brengen.
Samengevat: het is Google nog niet gelukt om genoeg draagvlak te krijgen voor WebM/VP8. Daarnaast is MP4/H.264 op mobiel gebied gewoon noodzakelijk, en Firefox heeft immers ook een browser voor Android.
Ze moeten dus wel om in de race te blijven.
Grote vraag is natuurlijk wat Opera doet. Blijven zij vol houden of kondigen ze ook ondersteuning voor MP4/H.264 aan?
En wordt "ons" leven daarmee dan gemakkelijker? Want als we allemaal één videoformaat gaan gebruiken, wat gebeurt er dan met de licentiekosten die we daar voor moeten gaan betalen?