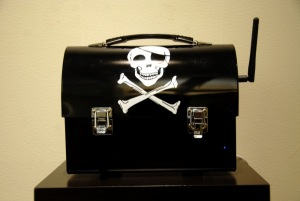 Een lekker discussie opwekkend bericht op Tweakers.net over professor David Darts van de Universiteit van New York. Hij heeft instructies beschikbaar gesteld op zijn wiki voor zijn PirateBox.
De mooie boterhamtrommel, netjes in het zwart met doodskop er op geschilderd ($9,99 bij Amazon in de VS) stelt een lokaal netwerkje ter beschikking waar studenten verbinding mee kunnen maken om bestanden onderling uit te wisselen. Heel controversieel natuurlijk, want stimuleert deze professor daarmee dan niet dat zijn studenten tijdens zijn college illegaal content uitwisselen?

Op het filmpje hieronder kun je zien hoe e.e.a. er uitziet:
De doos heeft met opzet geen verbinding met het internet zodat het uitwisselen zelf niet opgespoord kan worden. Het is dus ook niet zo dat studenten via de doos spullen van internet kunnen downloaden, zelfs niet vanaf de eigen leeromgeving. Dat maakt het gebruik ervan op zich wel weer een stuk beperkter.
Je zou het kunnen zien als net wat eenvoudiger dan het onderling uitwisselen van USB-sticks tussen studenten.
Je zou dan bijvoorbeeld ook een Sheevaplug kunnen gebruiken in de box. Ook daar kun je via USB een externe batterij aansluiten. Met een USB-stick met wifi er aan vast heb je een vergelijkbare opzet, maar ook de mogelijkheid om bijvoorbeeld Moodle te laten draaien vanaf die lokale server.
Als je dat te ingewikkeld vindt, dan is de Zolid Draadloze internetrouter een andere goedkopere en compactere optie. Ook daar kun je bestandsdeling mogelijk maken, is WiFi standaard aanwezig en kan via USB een externe accu aangesloten worden.
Interessant. Al zal niet elke docent de behoefte hebben om studenten materialen op deze manier te laten delen.
Voor wie bezwaren heeft bij de naam, even een paar citaten uit de veelgestelde vragenlijst:
Why did you call it the PirateBox?
The PirateBox is inspired by the free culture and pirate radio movements. The name is a playful remixing of the title of the world's most resilient bittorrent site, The Pirate Bay.

Does the PirateBox promote stealing?

No. The PirateBox is designed to facilitate sharing between friends and local community members.

What are you currently sharing on your PirateBox?

I've seeded my box with a variety of songs, books, and videos. At the moment, my PirateBox includes a collection of stories by Cory Doctorow, Abbie Hoffman's Steal this Book, DJ Danger Mouse's The Grey Album, Girl Talk's Feed the Animals, a collection of songs by Jonathan Coulton and some animations by Nina Paley.