MOOC: "Powerful Tools for Teaching and Learning: Web 2.0 Tools"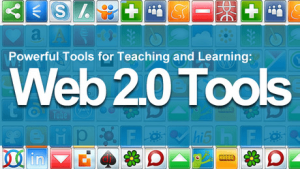 Het is een MOOC waarvan ik (uiteraard?) nog niet weet of hij echt de moeite waard is, maar op basis van de MOOC "Powerful Tools for Teaching and Learning: Web 2.0 Tools" hier alvast even onder de aandacht brengen.
Deelname is gratis, de MOOC start al heel binnenkort: 3 mei 2015.
De MOOC richt zich op K-12 docenten, vergelijkbaar met po en vo in Nederland, al lijken ze in de doelgroepbeschrijving ook hbo-docenten en eigenlijk elke docent met interesse in ICT en Onderwijs er bij te willen betrekken.
De onderwerpen voor de vijf lesweken zijn:
Week 1: "Can you hear me now? Exploring Web 2.0 Tools for Communication"
In deze week komt de eerste van de zeven uitgangspunten uit "Implementing the Seven Principles: Technology as Lever" van Arthur Chickering en Stephen C. Ehrmann aan bod. In week 2 en week 3 komt ook steeds een uitgangspunt aan bod.
Week 2: "Do we have to do group work? Exploring Web 2.0 Tools for Collaboration"
Samenwerken in een groep is altijd een uitdaging. Hoe laat je studenten goed samenwerken in groepen met behulp van technologie?
Week 3: "Another PowerPoint? Exploring Web 2.0 Tools for Creativity"
Creatief zijn betekent niet alleen het verzinnen van nieuwe ideeën, het gaat ook om technieken die kunnen helpen om waardevolle ideeën te ontwikkelen, ondersteunen en te evalueren.
Week 4: "Oh! So That's How It Fits Together, Utilizing My Toolbox"
Uitvoeren van een mini action research project in je eigen klas. Het gebruik van Web 2.0 tools gaat niet over de technologie maar over het verbeteren van het leren van de student.
Week 5: "It does not end here! Lifelong Learning"
Hoe blijf je doorleren, de rol van personal learning networks (PLNs) binnen een leven lang leren.
—
Waar ik met name nieuwsgierig naar ben is in hoeverre zo'n MOOC behulpzaam kan zijn voor een groep docenten die met web 2.0 (of andere vormen van ICT in het Onderwijs) aan de slag willen.
Voor wie werkt dit op deze manier? En als het niet werkt, waarom niet? Of waarom juist wel?
En dus ook: is het voor ons zinvol om vergelijkbare MOOCs op te zetten voor ons eigen hbo-onderwijs?
Als jij docent bent en deze MOOC gaat volgen, dan hoor ik dat graag!