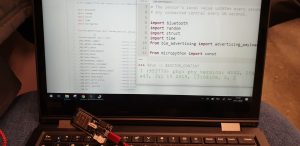 Het kon al op specifieke apparaten zoals de Lopy of in custom builds of als je Circuit Python gebruikte op hardware die daar ondersteuning voor heeft. Maar op de ESP32 had je tot voor kort nog niet de mogelijkheid om BLE (Bluetooth Low Energy) te gebruiken binnen MicroPython als je gebruik maakte van een van de officiële firmware images. Met ingang van release 1.12 is dat eindelijk wél zo. Flashen van mijn ESP32 deed ik volgens de instructies die hier staan. Nieuw, wat mij betreft, was ook dat Thonny, de gratis open source IDE voor Python (en MicroPython) ook ondersteuning heeft voor het rechtstreeks werken op de ESP32.
Dat was tot voor kort nogal een gedoe. Anders dan bij de apparaten die Adafruit maakt, kon je de ESP32 niet als USB-drive zien na aansluiten op je laptop. Maar de Thonny "ziet" de ESP32 en je kunt dan bestanden openen die er op staan (ander dan bij Arduino vindt compilatie niet al vooraf plaats dus je kunt de programmacode ook achteraf nog lezen), nieuwe bestanden aanmaken én je hebt de REPL beschikbaar om interactief commando's uit te voeren die dan op de ESP32 worden uitgevoerd.
Dat maakt het debuggen een stuk gemakkelijker. Mauro Riva  heeft op zijn blog niet alleen blogposts over het gebruik van MicroPython staan (zoals deze over het zelf compileren van de firmware met BLE support), maar ook een github repository. Daar kun je ook een aantal voorbeelden vinden.