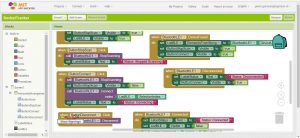 De site/toepassing is niet nieuw, maar ik had simpelweg nog geen reden gehad om er eerder naar te kijken: MIT App Inventor.
Vandaag heb ik er voor het eerst mee geëxperimenteerd. De aanleiding is een wat groter project waarbij ik sensorwaarden die via een ESP32 worden verzameld direct op een mobiel apparaat wil kunnen ontvangen (dus niet via WiFi / MQTT etc). Het idee is om daar BLE (Bluetooth Low Energie) voor te gebruiken, de ESP32 heeft standaard WiFi en BLE ingebouwd. Maar de standaard apps die je voor BLE kunt downloaden hadden wat moeite met het verwerken en zeker met het netjes weergeven van de data die op deze manier binnen kwam. Zelf een app bouwen voor iOS of Android had ik in het verleden wel al eens geprobeerd, maar in beide gevallen was het installeren van de benodigde tools/software en het krijgen van een basisbegrip van hoe e.e.a. werkt al voldoende reden om daar niet teveel extra tijd in te steken.
Ik was dan ook een beetje sceptisch toen ik de verwijzing naar MIT APP Inventor tegenkwam. Maar, de eerste indruk na een paar uurtjes testen is heel positief. Goed, de eerste beperking voor nu is nog dat er nog geen ondersteuning is voor iOS. Dat was voor mij geen echt probleem, ik heb beide ter beschikking.
Heel prettig is wat mij betreft dat ik meteen in de online omgeving aan de slag kon. Ik kon met een Google account inloggen, naar keuze voor mij dan dus via @gmail.com of via @ixperium.nl omdat we Google Apps for Education gebruiken. Maar helemaal mooi werd het na het koppelen van mijn Android toestel via de MIT AI2 Companion App die ik via Google Play kon installeren. Na het scannen van een QR-code of het invoeren van een korte code werd mijn toestel gekoppeld aan het project waar ik mee bezig was. Dat betekende dat wijzigingen meteen werden doorgevoerd en te testen waren.
Het bouwen van een applicatie voelde heel vertrouwd, enerzijds heb je de ontwerpomgeving waar je knoppen, lijsten etc. op je scherm plaatst. Om er voor te zorgen dat die knoppen daadwerkelijk iets doen gebruik je de "Blocks" omgeving. Als je met Scratch kunt werken of met de Blocky achtige omgevingen zoals ook bij de Micro:bit gebruikt worden, dan kun je hiermee eenvoudig overweg.
En ook wijzigingen die je hier doorvoert worden meteen in de app op je smartphone doorgevoerd.
Heb je app helemaal klaar, dan kun je een .apk bestand downloaden op je smartphone. Dat is dus een "echte" app die gewoon zelfstandig werkt, los van de online omgeving. Nou staan de meeste smartphone tegenwoordig zo ingesteld dat ze niet zomaar apps installeren die niet in Google Play staan. Maar als het goed is, dan is dat één vinkje dat je moet aanzetten. Ik heb nog niet uitgezocht hoeveel werk de optie is om je app via Google Play te delen via App Inventor, want dat is voor mijn doel niet nodig.
Conclusie
Voorlopige conclusie is dat deze omgeving voldoende flexibiliteit biedt voor wat ik nodig heb.  De app is nog niet klaar dus nog geen filmpje etc. van het eindresultaat. Dat wordt nog vervolgd.