Goed, ik snap het idee: hoe cool zou het zijn als je overal waar je maar bent dezelfde setup qua monitoren kunt hebben als op je eigen werkplek.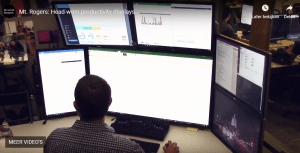 Want zeg nou zelf, jij hebt toch ook zo'n setup van 6 monitoren op je bureau, waarbij de ene nog groter is dan de andere?
Maar goed, dat zal ter illustratie zijn, als een "stel je eens voor dat je zo'n setup nu wél kunt realiseren?"
Los daarvan, wij zien het in de demo als vensters die in de werkelijke ruimte rondvliegen, maar het zijn duidelijk VR (of Mixed Reality zoals Microsoft dat noemt) brillen. Geen HoloLens brillen. Dat betekent dus dat je volledig afgesloten bent van je omgeving. Je ziet je toetsenbord of andere zaken die je op je tafel hebt liggen niet meer, ziet ook niet of iemand er in de coffeeshop met je tas vandoor gaat, je zit helemaal afgesloten van de buitenwereld. En dat wordt na 20-30 minuten helemaal niet zo fijn. Zelfs als je geen last krijgt van het gewicht van de bril op je hoofd, het zweterige gevoel dat je krijgt door het afgesloten zijn van een deel van je hoofd, zelfs dan wil je na die tijd wel weer even "vrij" uit die opgesloten ruimte. Dan maakt het dus niet uit dat de bril uren mee kan  op een acculading.
Nogmaals, het zou me super stoer lijken als ik 's ochtends in de bus en trein een paar grotere schermen voor me zou kunnen zien bij het werken op mijn laptop. Maar dan wel in een AR-situatie. Waarbij ik gewoon de buitenwereld zie en de scherm letterlijk als extra fysieke schermen in de ruimte zweven. Zo tegen de tijd dat ze de interface in een contactlens ingebouwd hebben, die ik kan dragen zonder dat ik het gewicht voel of zonder dat ik een groot apparaat extra met me mee moet slepen om daar te kunnen werken. Die tijd komt wel, maar tot die tijd zijn dit vingeroefeningen waarvan ik me afvraag of Microsoft er genoeg van kan leren. De vraag "lopen gebruikers warm voor dit concept?" hangt toch heel erg samen met de uitvoering. En het zou me echt heel erg verbazen als dit met de huidige VR brillen en stand van de technologie tot een daadwerkelijk product te maken is.
getipt door mspoweruser.com