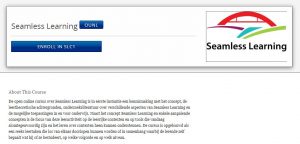 Seamless Learning betekent letterlijk vertaald "naadloos leren". Of in ieder geval dan het streven naar zo naadloos mogelijk leren. Want helemaal bereiken doen we die situatie nog lang niet. Die naden kunnen heel verschillend van aard zijn. Een veelgebruikt lijstje met voorbeelden van zulke naden is afkomstig van Wong & Looi (2011) die de volgende 10 "naden" benoemen: Formal and informal learning; Personalized and social learning; Across time; Across locations; Ubiquitous access; Physical and digital worlds; Multiple devices; Multiple learning tasks; Knowledge synthesis; Multiple pedagogical and learning activity models.
Nou zou je wat mij betreft kunnen stellen dat er veel overeenkomsten te vinden zijn tussen Seamless Learning en Blended Learning (voorstanders van de ene of de andere term zullen het daar mee oneens zijn), maar dat doet er eigenlijk minder toe. Het is een benadering die breder kijkt dan één context, dus niet alleen formeel leren of informeel leren, niet alleen online of offline, niet alleen uitgaande van één pedagogisch model maar van een veelvoud. En dan de uitdaging om die verschillende "naden" voor de lerende (leerling, student, cursist) zo probleemloos of onzichtbaar mogelijk te maken.
Bij de Open Universiteit hebben ze een MOOC (open online cursus) gemaakt ter introductie van het onderwerp. De MOOC is gratis toegankelijk en staat nog open tot september 2018 (daarna wordt hij gearchiveerd). Je kunt jezelf hier aanmelden voor toegang tot de MOOC. In juni 2018 heeft een conferentie plaats gevonden in Maastricht, de presentaties daarvan zijn hier online te vinden. In augustus 2018 start een nieuwe MOOC over het ontwerpen van seamless learning.
Lees verder….