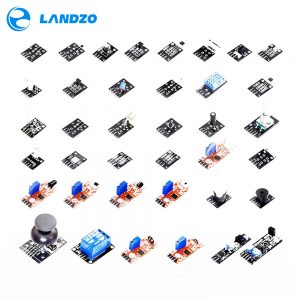 Ondanks alles zijn kinderen nog lang niet zo'n nerd of geek als hun papa is. En hoewel ik natuurlijk sowieso helemaal niet over ze mag klagen, kreeg ik vandaag toch nog wel weer wat meer hoop. Vandaag kwam namelijk weer eens een pakje uit China binnen. Nu met zo'n "bekende" 37-in-1 sensorkit. Een zakje (ik had niet gekozen voor de duurdere versie met doosje) met daarin 27 verschillende sensoren voor aan de Arduino, de ESP8266 of de micro:bit.
Totale kosten zo'n 10 euro, geen geld dus. Ongetwijfeld niet de meest hoogstaande kwaliteit, maar elke sensor zit al op zijn eigen printplaatje met pinnen om meteen een dupont-kabeltje op aan te sluiten.
Wat me positief verraste was de belangstelling en de nieuwsgierigheid die het pakje met sensoren opwekte. Niet omdat ze iets moesten of wilden bouwen. Nee, gewoon nieuwsgierig naar waar al die 27 sensoren voor dienden, wat je er mee kon doen. Sommigen kenden ze al (relais, thermometer etc.) maar andere ook weer niet. Het bijbehorende kaartje bevat niet meer dan alleen een afbeelding van de sensoren en de bijbehorende naam. Ze kunnen er via YouTube dus heel eenvoudig achter komen.
Maar dat moet nog even wachten want komend weekend "moeten" we eerst nog een Sinterklaas surprise in elkaar knutselen op basis van een servo, een ATtiny85, LEDjes, hout, verf,…..
De week erna hebben we wél tijd. Ik ben eens benieuwd hoe ver we komen.
Dat kinderen alleen maar willen gamen en tv kijken is net zoveel onzin als dat hele digital natives verhaal van voorheen. 🙂