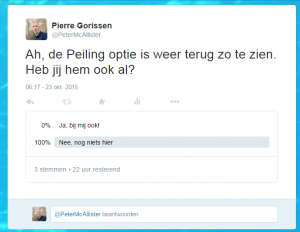 De peiling-optie (hmm, moet daar nou een streepje tussen of niet? Ja/Nee) was er even al eerder deze week, toen was hij weer weg, vanochtend zag ik hem weer. En nu kan ik de scores ook gewoon meteen zien in mijn eigen tijdlijn.
De beperkingen voor zover ik ze nu (23-101-2015) kan overzien:
Geen ondersteuning in mobiele Twitter clients (van Twitter zelf of van anderen) voor het maken van tweets met een peiling;
Geen ondersteuning in mobiele Twitter clients (van anderen) om de peiling/resultaten in tweets met een peiling te bekijken;
Maximaal 2 antwoordopties per peiling;
Maximaal 20 karakters per antwoordoptie;
Maximaal (en minimaal) 24 looptijd voor een peiling;
Nog niet zichtbaar in de Analysis / Tweetstatistieken overzichten.
Ik begrijp dat ondersteuning in de mobiele clients een kwestie van tijd is omdat de functionaliteit ook via de Twitter API beschikbaar komt. Dan is het wachten daarna op de eerste protestacties tegen het overmatig gebruik van peilingen in tweets….