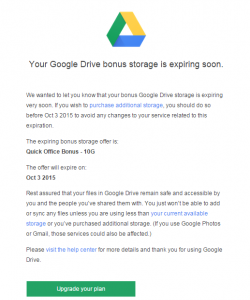 Ik weet het, bij commerciële bedrijven is niets echt gratis. Je betaald er altijd op de een of andere manier wel voor. Maar van online opslag had ik lange tijd echt het gevoel dat het definitief een "bijproduct" geworden was. Voor iedereen dan met uitzondering dan wellicht box.net én dropbox.com. Want die twee hebben hun businessmodel rond opslag (met aanvullende diensten) vorm gegeven. Voor Apple, Google, Microsoft liggen de verdiensten elders en is opslag een extra service naar hun klanten (en maakt hun respectievelijke office-diensten eenvoudiger te koppelen).
Maar van met name Google krijg ik de laatste tijd toch weer regelmatig mailtjes dat bonus-opslag die ik een tijd geleden kreeg, bijvoorbeeld omdat ik een Android telefoon activeerde of omdat ik Quick Office gebruikte, weer gaat vervallen.
En dat terwijl ik bij Google Drive niet eens het meest (gratis) opslag ter beschikking heb. Tijd dus om e.e.a. weer eens op een rijtje te zetten.