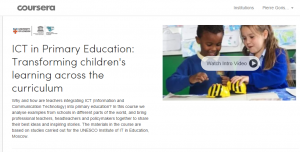 Mocht je het nou niet razend druk hebben met de naderende zomer voor de deur, dan kun je die extra tijd zonder problemen invullen met een of meerdere onderwijs en ICT gerelateerde MOOCs die van start gaan (of net van start zijn gegaan).
De MOOC "ICT in Primary Education: Transforming children's learning accross the curriculum" is al in zijn derde week, maar je kunt nog toegang krijgen tot de MOOC en kunt er heel veel aanvullende bronnen (links/documenten/scoop.it bronnen) vinden ook als je niet voor het certificaat gaat.
Vanaf 22 juni start bij Canvas: "Teaching Online: Reflections on Practice". Deze MOOC heeft al vaker gelopen. Zie dit filmpje voor een introductie.  Deze MOOC heeft een lange doorlooptijd, hij loopt tot 10 augustus.
Bij Coursera kun je in juli weer terecht voor de MOOC "Learning to Teach Online". Deze MOOC werd vorig jaar al een keer uitgevoerd en loopt dit jaar van 6 juli tot 17 augustus. De video's van (de eerdere versie) kun je ook op YouTube vinden. De bronnenbank is hier te vinden, zie ook dit bericht over hun uitleg bij de peer-assessments.
Ook op 6 juli en bij Coursera start de MOOC "Foundations of Virtual Instruction". Deze MOOC is gericht op kinderen in de leeftijd 5-18 jaar, dus niet specifiek hbo-studenten.
De MOOC "Blended Learning with EdX" is self paced, wat zoveel betekent als "je kunt beginnen wanneer je wil". Met 3-4 uur is het ook meer een snuffelcursus dan een volledige MOOC.
Ken je nog andere Onderwijs en ICT gerelateerde MOOCs die binnenkort van start gaan? Laat het dan hieronder weten!