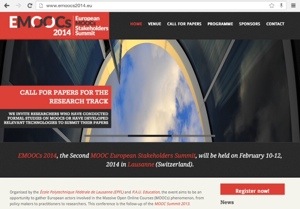 Voor het experience-deel en het research-ondereel van de EMOOCS 2014 conferentie hebben de sprekers een paper ingediend. De proceedings, dus het document met al die papers, is al online te bekijken/downloaden (let op, PDF!).
Behalve de tip dat je ze daar kunt downloaden, voor de volledigheid ook even de basis voor een van mijn tweets gisteren:
"Men tend to overestimate their abilities compared to women" 🙂 #emooc2014 pic.twitter.com/uifXph2ZRb

— Pierre Gorissen (@PeterMcAllister) February 10, 2014
Je kunt de foto van de betreffende dia zien in de tweet, het stukje in de proceedings dat daar aan ten grondslag ligt is dit:
We did not detect any association between gender and achievement (χ2 = 2.2, df = 2, p-value = 0.33), instead the association was highly significant with personal aims (χ2 = 53, df = 2, p-value <0.001) and achievement gap (χ2 = 31, df = 2, p-value < 0.001). Women tended to underestimate their ability, contrary to men, who tended to overestimate their ability. Only 33.9 % of women aimed at the advanced certificate and at the scale of the MOOC, 65.3 % achieved or exceeded their objectives. In comparison, 50.2 % of men intended to get the advanced certificate, and only 52.9 % reached or exceeded their personal aims. Cisel, M. (2014). Analyzing completion rates in the First French xMOOC. In: Cress, U. & Delgado Kloos, C. Proceedings of the European MOOC Stakeholder Summit 2014. Paper presented at EMoocs 2014, Lausanne (p.28)
Plaatst het toch weer een beetje beter in zijn context. 😉
Al kun je natuurlijk allerlei vraagtekens zetten bij deze uitspraken, want als ik kijk na hoe serieus (niet!) ik zulke vragenlijsten aan het begin van een MOOC invul (ik wil beginnen, anoniem, zien wat er te halen is, niet al veel over mezelf en mijn doelen vertellen), dan zou ik er niet té harde conclusies uit willen trekken.