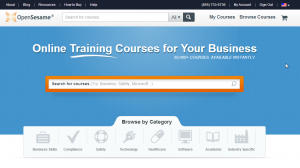 Door de aandacht voor met name MOOC's is online onderwijs (of zo je wilt e-learning) op het moment helemaal hot. En dus komen ook meer traditionele spelers, d.w.z. de bedrijven die zich al langer bezig houden met al dan niet commercieel uitventen van e-learning content gemakkelijker aan bod bij grote sites.
Het item "OpenSesame Lands $8M To Become The iTunes Of Corporate Training Content" op Techcrunch moet dan ook zeker in dat licht gezien worden. Natuurlijk, als je via een financieringsronde net zo'n 8 miljoen dollar aan kapitaal binnen gehaald hebt als bedrijf, dan verdien je wel een vermelding. En ik zal toegeven dat ik ook onder de indruk was van de marketingpraat:
OpenSesame is on a mission to make buying and selling eLearning courses and content as simple as buying a song or movie on iTunes. As the online training market takes off, OpenSesame wants to be the App Store or go-to marketplace for the best content, where any company can buy courses without paying for a subscription or expensive licensing fees.
Klinkt goed. En deze verkocht het helemaal aan me:
But the real value, says OpenSesame Joshua Blank, is what the company has done technologically to ensure that the content available through its marketplace is compatible with the Learning Management System (LMS) or whatever platform the buying company is using to display the content and offer to its employees. Companies use a wide range of LMS platforms to organize and manage their corporate training content, and Blank says that OpenSesame's content is now compatible with about 75 percent of the options out there.
Wow! Een marktplaats waar aanbieders onderwijsmateriaal kunnen verkopen, dat ik als bedrijf (of als individu) kan kopen en in driekwart van de beschikbare leeromgevingen ook lokaal zou moeten kunnen draaien. Dat klinkt interessant!
Lees verder….