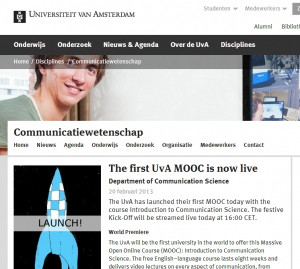 Bij de Universiteit van Amsterdam ging gisteren hun eerste MOOC van start: "Introduction to Communication Science". De TU Delft kondigt aan lid te worden van het EdX Consortium en in september op die manier twee MOOCs aan te bieden: "Introduction to water treatment" en "Solar Energy". Het ziet er dus naar uit dat ook de Nederlandse universiteiten van start zijn met het aanbieden van MOOCs. De (voor mij) meest logische vraag is dan: wanneer volgt de eerste hogeschool? Het aanbieden van MOOCs zal toch niet iets zijn dat beperkt blijft tot universiteiten? Ook hogescholen hebben in het verleden al internationaal onderwijs aangeboden, dus waarom niet online, massaal, open?
Er zijn natuurlijk wel een paar redenen te verzinnen. Je moet er als onderwijsinstelling in ieder geval klaar voor zijn, een MOOC kan fout lopen als je niet de juiste technologie kiest. Maar 'fout' hoeft dan niet alleen te maken hebben met technologie die niet geschikt is voor 41.000 cursisten, je kunt ook veel fouten maken in het onderwijsontwerp.
En natuurlijk kun je ook van mening zijn dat het gewoon een hype is, niet bij je onderwijsinstelling past, je uitsluitend gewoon geld moet verdienen met je primaire proces (studenten in klaslokalen opleiden tot studenten met een diploma), ook dan kun je hier beter niet mee beginnen.
Van de andere kant kunnen juist die vragen en onduidelijkheden gezien worden als uitdagingen en redenen om er wél mee aan de slag te gaan. Ik zal niet ontkennen dat ik er ook sceptisch tegenover sta, maar dat zou voor mij juist een reden zijn om bij zo'n experiment betrokken te willen zijn!