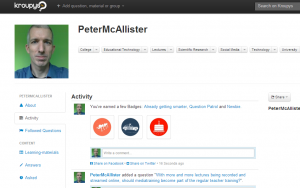 Meestal als ik een niewe website, dienst of product zie, dan weet ik redelijk snel wat ik er van vind. Soms komen er initiatieven voorbij waar ik even over na moet denken. Kroupys.com is er zo eentje waarvan ik niet meteen wist wat ik er nou van moet vinden. Wat is het? Het is (zo lees ik in het persbericht) een initiatief van drie (inmiddels afgestudeerde) studenten van de Universiteit van Amsterdam. Ze noemen het "a social knowledge sharing platform for higher education" met als doel het verbeteren van de online kennisdeling in het hoger onderwijs.
Op de site kun je een account aanmaken en dan kun je vragen stellen of vragen van anderen beantwoorden. Voor het beantwoorden van vragen krijg je punten. Deels gewoon door het beantwoorden ervan, maar anderen kunnen jouw vraag ook scoren. Uiteraard kun je badges verdienen. Ik gaf een antwoord op een vraag en kreeg de "newbie" badge, volgde mijn eerste vraag (omdat ik er antwoord op gaf) en stelde een vraag. Drie badges verdiend in een half uur.
Hoewel de site er anders uit ziet, deed het geheel me erg denken aan Stack Overflow waar ik zelf al veel vaker geweest ben als ik op zoek was naar antwoorden op programmeervragen. Die site laat zien dat het concept zeker kan werken. Maar waar ik benieuwd naar ben is of "higher education" als afbakening voldoet. Zo kwam ik bijvoorbeeld ook een vraag tegen over hoe het kwam dat je steeds vaker mannen met een mannentas zag. Die vraag kan ik overigens helaas niet meer terug vinden via het zoeksysteem.