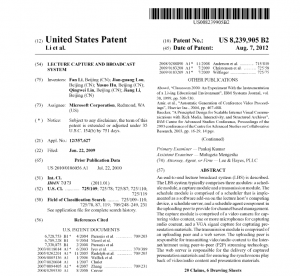 Ik was er niet speciaal naar op zoek, ik was in Google Scholar op zoek naar andere literatuur over het opnemen van colleges (als promovendus moet je je literatuur een beetje bijhouden natuurlijk) en kwam toen deze vermelding tegen van een "Lecture capture and broadcast system" (US Patent 8,239,905). De samenvatting luidt:
An end-to-end lecture broadcast system (LBS) is described. The LBS system typically comprises three modules: a schedule module, a capture module and a transmission module.  The schedule module is comprised of a scheduler that is implemented as a software add-on on the lecture host's computing device, a schedule server and a schedule agent component in the uploading peer to provide for channel based management. The capture module is comprised of a video camera for capturing video content, one or more microphones for capturing audio content and a VGA signal capture for capturing presentation materials. The transmission module is comprised of an uploading peer and a web server. The uploading peer is responsible for transmitting video audio content to the Internet/intranet using peer to peer (P2P) streaming technology. The web server is responsible for the delivery of captured presentation materials and for ensuring the synchronous play back of video audio content and presentation materials.
Dit klinkt heel erg als de generieke beschrijving van de functionaliteit zoals die door systemen als Mediasite, Presentations2Go, Echo360 en open source varianten zoals Matterhorn aangeboden wordt. Op zich is het vanzelfsprekend dat iemand hier een patent op aangevraagd heeft. Dat gebeurt met elk idee/concept dat maar een beetje de moeite waard is.
De vraag is dan ook vooral: hoe gaat Microsoft gebruik maken van dit patent? Gaan ze verlangen dat andere leveranciers licenties nemen en betalen voor het gebruik ervan? Komen er rechtzaken van, zoals bij Blackboard indertijd? Ik verwacht niet dat het direct consequenties zal hebben voor de commerciële aanbieders, die verwerken zulke kosten in de prijzen die wij als eindgebruikers betalen. Het zal echter voor open source aanbieders wel wat ingewikkelder worden als zij ook moeten betalen voor het gebruik van dit soort patenten. We zullen zien wat er van komt. Het patent is van afgelopen augustus, dus nog redelijk nieuw, even afwachten dus.