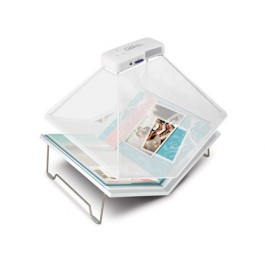 Ik wist niet goed wat nou de juiste titel voor dit bericht was omdat ik niet weet of ik nou gelijk of juist ongelijk heb gehad over de ION Book Saver. Toen hij aangekondigd werd, was ik er enthousiast over.Toen hij in mei 2011 in Nederland te koop leek te komen, heb ik hem besteld voor €149,- en gewacht tot januari 2012 en toen hij er toch nog niet was heb ik mijn geld terug gevraagd en gekregen.
Toen niet veel later tóch weer berichten verschenen dat hij alsnog geleverd zou worden, heb ik zelfs nog gevraagd of ik dan tóch weer op de lijst kon komen. Gelukkig voor mij heeft het bedrijf daar niet eens meer op gereageerd.
Want inmiddels zijn er inderdaad exemplaren van de ION Book Saver uitgeleverd en de resultaten van het apparaat blijken slecht te zijn. Zie deze posts op het MobilRead forum en deze uitgebreide test/beschrijving/post van Taede Smedes. Jammer. Toch wel blij dat ik mijn geld terug heb en ook wel blij dat ION de laatste keer niet eens meer de moeite nam om te reageren. Maar ja, ik wil toch wel graag een groot deel van mijn boekenvoorraad omzetten in eBooks (liefst zonder de boeken helemaal te vernietigen). Moet ik dan toch maar uit deze lijst een zelfbouw-exemplaar selecteren om te bouwen?