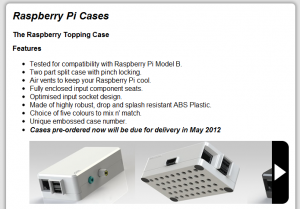 Het is nog maar de vraag wanneer de Raspberry Pi eindelijk grootschalig beschikbaar gaat komen (de eerste batch verkocht binnen een paar uur uit en daarna bleek er een probleem met de netwerk connector). Maar je kunt nu wel al een bestelling plaatsen voor een ombouw. voor die Raspberry Pi. ModMyPi is namelijk met de voorverkoop gestart. Voor €14,98 (incl. verzendkosten naar Nederland) heb je zelfs naar keuze een rode, groene of blauwe ombouw (de witte en zwarte zijn iets goedkoper). Dan zou je dus in totaal €39,55 (dat is de prijs incl. verzendkosten en BTW voor het model met netwerkaansluiting) + €14,98 = €54,53 kwijt zijn voor een Raspberry Pi inclusief ombouw.

Dat is nog steeds een stuk minder dan een Apple TV.
De verwachting is dat de ombouw in mei geleverd zal worden. Waarschijnlijk ook ruim voordat de Raspberry Pi zelf in handen van toekomstige eigenaren van de eerste 10.000 stuk zullen komen. Kun je alvast naar een lege verpakking kijken. Of zou dat voor die hackers not done zijn om zo'n kant en klare ombouw te kopen.