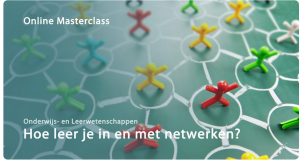 Van 7 t/m 14 Maart 2012 organiseert de Open Universiteit de Online Masterclass "Hoe leer je in en met netwerken?". Middels een aantal online sessies (een PC met een goed internetverbinding en een koptelefoon om de audio goed te kunnen volgen, of een iPad zijn voldoende om ze te volgen) en asynchrone opdrachten (reageren in de fora, bestuderen van bronnen) kun je participeren in deze masterclass. Op deze pagina staat het volledige programma.
De masterclass wordt verzorgd door Peter Sloep, programmaleider van het Learning Networks programma van het Centre for Learning Sciences and Technologies (CELSTEC) van de Open Universiteit.
Deelname is gratis, je hoeft je alleen maar aan te melden via deze site (vóór 7 maart 2012). Je hoeft er niet voor te reizen, je kunt gewoon deelnemen vanachter je eigen PC/laptop/Macbook/iPad, maar uiteraard heb je er vooral/alleen iets aan bij actieve participatie. Plan dus ook ruimte in voor de activiteiten tussen de live sessies.
Doelgroep: onderwijskundigen, ontwikkelaars en adviseurs van onderwijs en opleiding en daarnaast op docenten, trainers en andere professionals die geinteresseerd zijn in het gebruik van mobiele technologie voor leren binnen en buiten het klaslokaal.