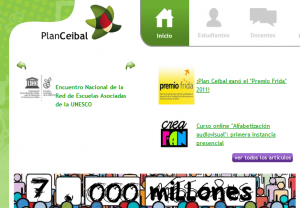 Day one of the ALT-C 2011 started with a keynote by Miguel Brechner. He talked about the educational and social impacts of Plan Ceibal, the One Laptop Per Child project in which more than 450,000 computers have been deployed to every pupil in state education from the 1st year of primary to the 3rd year of secondary school. 99% of these students now have Internet connectivity in their school.

Miguel Brechner had some wise lessons to share with us. Like:
"Nobody knew how to do it, so no point in bringing in consultants, because they only cost three times the money it would cost otherwise"
Or:
"Asking for help from children is the only transaction we have with them that doesn't cost money"
The Total Cost of Ownership for the OLPC laptops was: $400 for 4 years
Some results:
Children watch less TV
Increase in equality
They have an improved self esteem
A lot of parents use their children's laptop
The challenge, as seen by Miguel Brechner at the moment is personalisation of education.
The project replaces the laptops after 4 years and when students go to secondary school. Because students don't want to use the same things in secondary school as they use in primary school.
And: Politicians are often afraid to take risks. Our president wasn't afraid to take that risk.
Inspiring keynote.