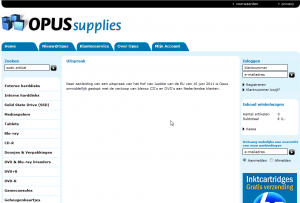 Gisteren deed het Hof van Justitie van de Europese Unie uitspraak in het conflict tussen de Nederlandse stichting De Thuiskopie en Opus Supplies uit Duitsland. Inzet: de afdracht van de vergoeding voor thuiskopiëren op blanco media zoals lege CD's en DVD's. Opus Supplies levert vanuit Duitsland rechtstreeks naar Nederland en vond dat zij die niet hoefden te betalen. Uiteindelijk hebben ze daar toch ongelijk in gekregen.
Maar ze zijn niet van plan de heffing te gaan betalen. Want op hun website staat inmiddels: "Naar aanleiding van een uitspraak van het Hof van Justitie van de EU van 16 juni 2011 is Opus onmiddellijk gestopt met de verkoop van blanco CD's en DVD's aan Nederlandse klanten".
Ik moet zeggen dat ik er niet heel erg wakker van zal liggen. Het is al weer een tijd geleden dat ik blanco CD's en DVD's via Opus Supplies kocht. Tegenwoordig koop ik er USB-sticks van 16GB of SD-kaartjes van dezelfde omvang. Maar CD's en DVD's brand ik niet meer. Heb ik niet nodig in de auto (daar plug ik een USB-stick in of mijn iPhone), niet in de woonkamer (muziek en video komen van een harde schijf die aan het netwerk hangt), niet op mijn studeerkamer (muziek en video komen van diezelfde harde schijf).
Het is maar goed dat dat allemaal media zijn waarvan het ook voor de politiek duidelijk is dat een thuiskopie maar een fractie van de gebruiksmogelijkheden is.