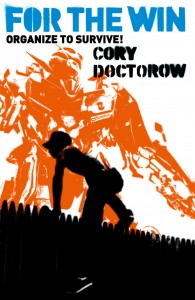 Toen ik het bericht las, moest ik meteen aan het boek For The Win van Cory Doctorow denken. In dat boek gaat het ook om arbeiders die gedwongen of voor anderen in virtuele werelden / online spellen goud en credits verzamelen.
Maar waar je bij het boek van Doctorow nog kunt denken "dat is fictie", maakt het bericht van de Guardian duidelijk dat het niet alleen in boeken voor komt. In China worden mensen die veroordeeld zijn tot dwangarbeid niet alleen gedwongen tot het graven van sleuven of het stuk slaan van stenen, maar ook tot het spelen van online spellen waarbij de opbrengsten dan naar de bewakers gingen.
Het boek van Cory Doctorow is (net als zijn andere boeken) gratis in een aantal formaten te downloaden van deze website. Zoals gezegd, het boek is duidelijk fictie, er gebeuren dingen in die in het echt niet snel zouden kunnen gebeuren. Wees echter gewaarschuwd, het is geen sprookje, lang niet alle verhaallijnen hebben een happy end.