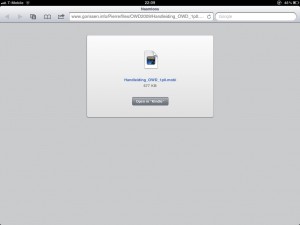 Naast alle aandacht voor iBooks op de iPhone/iPad en ePUB, staat in Nederland de Kindle voor iPhone/iPad applicatie een stuk minder in de belangstelling. Dat is heel begrijpelijk aangezien tot voor kort die applicatie alleen gebruikt kon worden voor het lezen van elektronische boeken die je bij Amazon gekocht had. Je kon er geen eigen bestanden in openen. Dat is sinds de update van gisterenavond niet meer zo. Je kunt nu ook .PRC en .MOBI (Mobipocket) boeken openen in de Kindle applicatie. Die boeken kunnen dan online staan op een webpagina, in Dropbox of in een Mail naar je toegestuurd zijn.
Dat was iets wat nog geen van de andere applicaties op mijn iPad konden, maar het is een beetje de vraag of het zo'n relevante update is aangezien het Mobipocket formaat het de afgelopen anderhalf jaar definitief lijkt te gaan afleggen tegen ePUB.
Jammer ook is dat Amazon niet de kans aangegrepen heeft om een aantal van de zaken die ik mis in iBooks op te lossen in de Kindle applicatie: de op deze manier geïmporteerde boeken, laatst gelezen locatie, aantekeningen en boekenleggers in die boeken worden ook nu niet gesynchroniseerd tussen de apparaten. Dus als je een gedownload boek op je iPhone en je iPad wilt lezen, dan moet je het twee keer downloaden en bij het wisselen tussen device handmatig doorbladeren.
Ook nieuws voor Kindle op de Mac: daar is de applicatie verschenen in de Mac store. Eerder dan iBooks voor de Mac, een nog steeds ontbrekende schakel in het Apple bouwwerk voor elektronische boeken. Amazon is dus zeker nog niet verslagen.