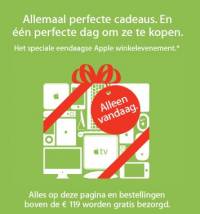 "Black Friday is the Friday after Thanksgiving in the United States, which is the beginning of the traditional Christmas shopping season. The term dates back to at least 1966, although its usage was primarily on the East coast. The term has become more common in other parts of the country since 2000. Because Thanksgiving falls on the fourth Thursday in November in the United States, Black Friday occurs between the 22nd and the 29th of November."

(bron)
Zoals ik vorig jaar al uitlegde, kennen wij hier in Nederland Black Friday eigenlijk helemaal niet. Maar dankzij de online winkel van Apple kunnen we er daar in ieder geval van meegenieten.
Ik had vorig jaar de prijzen/aanbiedingen van de verschillende hardware die Apple verkoopt op een rij gezet en daarbij de korting die je vandaag kunt krijgen. De lijst van vorig jaar staat nog steeds hier. Toen kon je al zien dat "gewone" kopers vandaag het meeste voordeel hebben, terwijl kopers uit het onderwijs of kopers die via SURFspot korting krijgen geen of veel minder extra korting krijgen.
Ik heb hier de lijst van dit jaar online gezet. Opvallend is daarbij natuurlijk het voor het eerst voorkomen van de iPad. Je kunt daar vandaag 5-8% korting op krijgen afhankelijk van het model. Ook opvallend vond ik dat Apple er blijkbaar in slaagt om op een aantal plekken de absolute prijzen voor modellen iets te laten stijgen. Natuurlijk is er ook het nodige aan de hardware verbeterd, maar voor de omzet is het zeker niet slecht.
Tot zover het overzicht van dit jaar, doe er je voordeel mee.