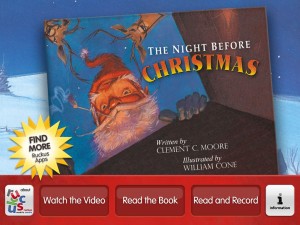 Ik heb er eigenlijk een hekel aan om nog voor Sinterklaas reclame te maken voor Kerstmis, maar aangezien deze twee aanbiedingen waarschijnlijk heel tijdelijk zijn, plaats ik ze nu toch maar al even. En The Velveteen Rabbit is geen kerstverhaal.
Je kunt op dit moment (25-11-2010 20:15) gratis twee boeken met Meryl Streep downloaden voor op je iPad. Ik wil ze niet echt "interactieve" boeken noemen, omdat de interactie opties beperkt zijn:
Je kunt een video afspelen met de afbeeldingen uit het boek en de stem van Meryl Streep die het verhaal verteld;
Je kunt het verhaal zelf lezen/voorlezen;
Je kunt het verhaal zelf inspreken; d.w.z. dat je bij elke pagina de audio inspreekt. Het idee is dat je kind dan het boek voorgelezen kan krijgen door jou zelfs als jij er niet bent.
Omdat ze in het Engels zijn, zijn ze hier in Nederland niet echt geschikt voor de allerkleinste kinderen, meer iets voor de categorie 9-10 jaar als ze al wat Engels aan het leren zijn op school.
De boeken zijn hier te vinden:
Kleine waarschuwing nog: The Velveteen Rabbit is best wel droevig. Ook al heeft het een happy ending.