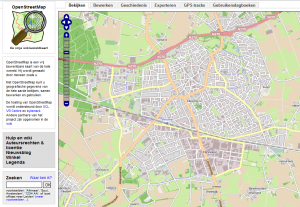 Opvallend nieuws vandaag: Steve Coast gaat voor Microsoft werken. Wie is Steve Coast zul je zeggen? Nou, als je de titel van dit bericht gelezen hebt dan zul je vermoeden dat hij de oprichter is van OpenStreetMap en CloudMade.
O jee, krijgt Microsoft daarmee dan OpenStreetMap en CloudMade in handen? Was het eerste wat ik zelf dacht. Maar, nee, zo is het gelukkig niet. Steve is alleen nog maar aandeelhouder bij CloudMade en ook voor OpenStreetMap is het niet zo dat Microsoft nu alleen de beschikking krijgt over deze kaarten. Overigens, maakt het me dan nog niets eens uit of het over Microsoft, Google of een ander groot bedrijf gaat. Het is geen overname van de bedrijven.
In positieve zin is het wel zo dat ook Microsoft, in navolging van Yahoo, gaat toestaan dat het fotomateriaal van Bing gebruikt mag gaan worden in combinatie met OpenStreetMap. En dat is alleen maar positief.
Voor het overige ben ik benieuwd hoe het Steve gaat bevallen bij Microsoft. Als je twee zulke initiatieven op poten gezet hebt dan lijkt me dat het best wel aanpassen wordt als je opeens bij een heel groot bedrijf gaat werken. We zullen zien.