Een tijdje geleden wees ik je al op het gratis eBook over iBook Author dat je bij O'Reilly kunt "kopen" voor 0 euro.  Vandaag in één post een verwijzing naar maar liefst drie gratis boeken die voor iedereen die met EPUB 3 aan de slag wil de moeite van het (gratis) aanschaffen waard zijn.

Het eerste boek, What is EPUB 3?, is daarbij dan eigenlijk nog het minste van de drie. Het bestaat uit 26 pagina's (uitgaande van de PDF) met inleiding op EPUB 3. Als je het onderwerp al een beetje gevolgd hebt, zal daar niets nieuws in staan voor je. Maar goed, als je de andere twee toch aan het aanschaffen bent, kun je die net zo goed ook meenemen.
Het tweede boek, HTML5 for Publishers, lijkt gezien de titel niet eens over EPUB te gaan, maar niets is minder waar. HTML5 is onderdeel van EPUB 3 en het boekje (57 pagina's in de PDF) gaat dan ook met name over het gebruik van een aantal nieuwe elementen in EPUB: canvas, geolocation (plaatsbepaling) en natuurlijk audio/video.
In het boek wordt verwezen naar / gebruik gemaakt van Modernizr, een gratis javascript library waarmee je in je HTML5 dynamisch kunt testen of de browser waarin je document weergegeven wordt bepaalde functionaliteit ondersteund. Veel handiger dus dan het gebruik van statische tabellen die met elke nieuwe versie van een browser weer achterhaald (kunnen) zijn.
Het derde boek, Accessible EPUB 3 is met 94 pagina's in de PDF het meest omvangrijke van de drie en voor mij was het ook de meest interessante van de drie. Het boek gaat, zoals de titel al zegt, over het maken van toegankelijke/drempelvrije EPUB documenten. En dat gaat, zoals het boek zelf ook uitlegt, niet alleen om het maken van EPUB documenten voor mensen die blind of doof zijn. Het boek geeft een duidelijke uitleg bij het opnemen van HTML 5 opmaak in je EPUB die semantisch geörienteerd is, en er dus niet alleen voor de opmaak is. Voor mij was het bestaan van de "EPUB 3 Structural Semantics Vocabulary" nieuw. Ik ben wel benieuwd in hoeverre de verschillende EPUB 3 readers (die er nog moeten komen) al dat soort functionaliteit zullen gaan ondersteunen. Dat zal voor een groot deel bepalen of het ook nut heeft om die extra inspanning te leveren bij het maken van een EPUB.
O'Reilly geeft deze boeken natuurlijk niet zomaar weg. Het is deels een soort reclamemateriaal voor een boek over EPUB 3 dat voor later dit jaar gepland staat: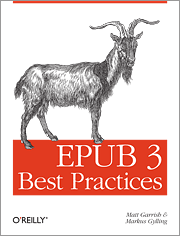 Op zich natuurlijk slim om delen daarvan op deze manier al te laten proof-readen door een wat groter publiek.