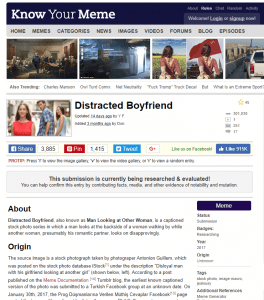 Ik weet inmiddels dat ik op Twitter lang niet alles meteen de eerste keer hoef te zien of te lezen. Als het echt "belangrijk" is, dan komt het meer dan 1 keer voorbij. Ik weet niet of dat hier helemaal op gaat, maar ik had de tweet van Andrew J Abernathy vanochtend al een keer voorbij zien komen, maar toen nog niet verder gekeken. Nu kwam het verhaal ook bij Mashable voorbij en las ik het toch. Je hebt ongetwijfeld wel eens een keer een variant gezien van het plaatje van de vriend die met zijn vriendin over straat loopt en dan omkijkt naar een mooi meisje. Deze bedoel ik!
Er zijn inmiddels al té veel varianten op gemaakt. Andrew vond echter nu de oorspronkelijke serie foto's op Shutterstock waar deze foto onderdeel van uitmaakt. En de foto's vertellen hun eigen (ja, ik weet het, volledig fictieve) verhaal. Ik zal je het herplaatsen van de individuele tweets besparen, je kunt ze zien bij Mashable of bij Andrew zelf.
Het zijn 44 pagina's met foto's!!
Wie verzint het om zo'n "verhaal" te maken voor stockfoto's ??
Ik neem toch aan dat er ook wel iemand achter dat deel van het verhaal aan gaat, toch?