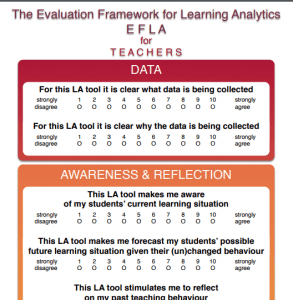 Bij learning analytics gaat het om het meten, verzamelen, analyseren en rapporteren van en over data van leerlingen en hun context, met als doel het begrijpen en optimaliseren van het leren en de omgeving waarin dit plaatsvindt. De terugkoppeling van deze analyses kan leiden tot effectiever handelen door de leraar, leerling of bijvoorbeeld de ontwikkelaar van lesmateriaal (Woning, 2012).
Het is nog een vakgebied dat sterk in ontwikkeling is. De discussie over wat je moet meten, hoe je moet meten, welke conclusies je wel of niet mag trekken op basis van data ("een student is geen getal"), je kunt er eindeloze discussies over voeren.
De vraag naar een evaluatieraamwerk voor learning analytics tools was er niet meteen eentje die ik daarbij als veelgestelde vraag voorbij heb zien komen. Toch is Maren Scheffel er al een tijdje mee bezig want morgen promoveert ze bij de Open Universiteit op dit onderwerp.
Het raamwerk, gericht op studenten en docenten staat online bij LACE. De resulterende "vragenlijst/scorekaart" ziet er eenvoudig en bruikbaar uit. Het is een compacte lijst vragen en geeft je alleen een score op deelgebieden. Het verteld je (uiteraard) nog niet hoe je dan een tool zou moeten aanpassen om een betere score te krijgen.
Ik heb het proefschrift zelf ook nog niet gelezen, ik kan dus ook nog geen inschatting maken over hoe betrouwbaar de score is die de scorekaart oplevert, hoe direct de relatie tussen ingevulde scores en daadwerkelijk gedrag is etc. Wordt nog vervolgd.