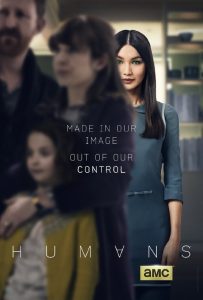 Als je de afbeelding hiernaast meteen herkende als behorende bij de Humans TV-serie dan begrijp je waarschijnlijk al direct waarom het *voorstel* voor Europese afspraken met betrekking tot de rechten en plichten van slimme robots ooit hoog noodzakelijk gaat worden. Want wat nu nog science fiction is, wordt in rap tempo werkelijkheid.
Om te beginnen, wat zijn "slimme robots"? Het voorstel (PDF) omschrijft ze als apparaten met de volgende mogelijkheden:
acquires autonomy through sensors and/or by exchanging data with its environment (inter-connectivity) and trades and analyses data
is self-learning (optional criterion)
has a physical support
adapts its behaviours and actions to its environment;
Ze hoeven dus niet uit te zien als mensen!
In een artikel bij de Guardian wordt al gesteld dat het voorstel tamelijk controversieel is. Het valt dus nog maar te bezien of het (ongewijzigd) aangenomen gaat worden. En dat controversiële is wat mij betreft eigenlijk juist wel goed. Want er worden heel wat zaken besproken, waarbij ik het zeker niet zomaar met alles eens ben.
Een van de meer controversiële discussiepunten naar aanleiding van het voorstel zal ongetwijfeld worden welke status een slimme robot moet krijgen: "robots' autonomy raises the question of their nature in the light of the existing legal categories – of whether they should be regarded as natural persons, legal persons, animals or objects – or whether a new category should be created, with its own specific features and implications as regards the attribution of rights and duties, including liability for damage;"  en als gevolg de oproep voor de invoering van " a specific legal status for robots, so that at least the most sophisticated autonomous robots could be established as having the status of electronic persons with specific rights and obligations, including that of making good any damage they may cause, and applying electronic personality to cases where robots make smart autonomous decisions or otherwise interact with third parties independently"; In humans speelde deze vraag ook, daar waren de slimme robots 'objects', zaken dus waar je eigendom op kon hebben. Bij domme robots is dat nu ook gewoon het geval, de discussie over wat het zou moeten zijn als robots meer autonoom worden is een interessante.
De uitspraak over zorgrobots: "Points out that human contact is one of the fundamental aspects of human care; believes that replacing the human factor with robots could dehumanise caring practices;" vind ik dat kader een ietwat stellige en wat erg gericht op de negatieve insteek. Want wat als je zaken die nu door mensen gedaan zouden kunnen worden, maar die niet gebeuren (omdat daar geen geld voor is bv), wél door robots gedaan kunnen worden? Zeggen we dan: "dat mag niet" of zeggen we dan "liever hadden we hier mensen voor ingezet, maar….". De uitspraak "fair distribution of the benefits associated with robotics and affordability of homecare and healthcare robots in particular" maakt dat voor mij nog onvoldoende duidelijk.
Het voorstel gaat ook in op de vraag of een slimme robot de 'maker' kan zijn van een werk zoals dat bestaat binnen de auteurswet:  "calls on the Commission to elaborate criteria for an 'own intellectual creation' for copyrightable works produced by computers or robots". Het zou discussies zoals bij de apenselfie in ieder geval in ieder geval kunnen voorkomen.
Nog eentje waar wel wat discussie over zal zijn: "takes the view that in the light of the possible effects on the labour market of robotics and AI a general basic income should be seriously considered, and invites all Member States to do so;". Natuurlijk, het is alleen maar een uitnodiging om serieus over een basisinkomen na te denken, maar het is er eentje waarvan ik heel benieuwd ben of die niet sneuvelt.
Ik blijf even doorgaan met discussiepunten aanstippen: "..robotics designers have a responsibility to develop and follow procedures for valid consent, confidentiality, anonymity, fair treatment and due process. Designers will comply with any requests that any related data be destroyed, and removed from any datasets". Klinkt logisch als het gaat om machines, maar bij zelflerende robots kan het verwijderen van data wel eens vergaande effecten kunnen hebben.
Bedrijven zullen niet heel blij zijn met deze eis:
"Undertakings should be obliged to disclose:
the number of 'smart robots' they use,
the savings made in social security contributions through the use of robotics in place of human personnel,
an evaluation of the amount and proportion of the revenue of the undertaking that results"
Immers, hoe duidelijker de besparingen zijn die bedrijven realiseren met slimme robots, hoe gemakkelijker het wordt om daar dan ook een bijbehorende belasting over te heffen. Bijvoorbeeld om dat basisinkomen dat nodig is te financieren.
Kortom, het is een mooi voorstel als je er naar kijkt vanuit het oogpunt van "ze pa

kken de zaak een stevig vast". Een Europees voorstel dat begint met het citeren van de drie (vier) wetten van de  robotica zoals die door Isaac Asimov opgesteld zijn, kan sowieso al op pluspunten rekenen.
Maar of en zo ja, in welke vorm het straks aangenomen gaat worden? Ik ben benieuwd. Europa is overigens niet de enige plek waar over zulke regels nagedacht wordt. In het Parool stond gisteren dat Rob van den Hoven van Genderen, ­directeur van het Centre for Law and Internet van de Vrije Universiteit in Amsterdam, voor de Chinese overheid gaat uitzoeken hoe robots in het rechts­systeem passen. Ik zou zeggen: vooral samenwerken ook al zijn de verschillende rechtssystemen niet gelijk.