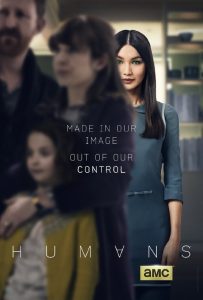 Als je de afbeelding hiernaast meteen herkende als behorende bij de Humans TV-serie dan begrijp je waarschijnlijk al direct waarom het *voorstel* voor Europese afspraken met betrekking tot de rechten en plichten van slimme robots ooit hoog noodzakelijk gaat worden. Want wat nu nog science fiction is, wordt in rap tempo werkelijkheid.
Om te beginnen, wat zijn "slimme robots"? Het voorstel (PDF) omschrijft ze als apparaten met de volgende mogelijkheden:
acquires autonomy through sensors and/or by exchanging data with its environment (inter-connectivity) and trades and analyses data
is self-learning (optional criterion)
has a physical support
adapts its behaviours and actions to its environment;
Ze hoeven dus niet uit te zien als mensen!
In een artikel bij de Guardian wordt al gesteld dat het voorstel tamelijk controversieel is. Het valt dus nog maar te bezien of het (ongewijzigd) aangenomen gaat worden. En dat controversiële is wat mij betreft eigenlijk juist wel goed. Want er worden heel wat zaken besproken, waarbij ik het zeker niet zomaar met alles eens ben.