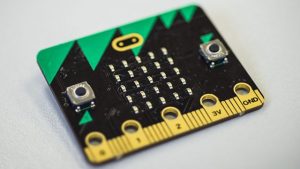 De Micro Bit en ik hebben tot nu toe een wat moeilijke relatie. Ik was sceptisch vooraf, maar het bezoek aan de BETT deed me besluiten dat het kleine apparaatje toch kansen bood die uniek waren.
Maar vandaag, nu de Micro Bit eindelijk ook voor "iedereen" te koop is, ben ik toch weer een stuk sceptischer. Waarom? Omdat de kit £12.99 moet gaan kosten, dus bijna €17,-. En dan gaat hij niet per stuk, maar Element 14, de enige plek waar ik hem nu kan vinden, verkoopt hem alleen in eenheden van minimaal 90 stuks. Ehm, niet echt geschikt voor 1 klasje of een test thuis of in het iXperium.
Maar zelfs zonder die 90 exemplaren die ik zou moeten aanschaffen, is 17 euro best duur. Voor dat bedrag koop ik ook een Pi Zero + Adapters + case. Voor £9 koop je een Pi Zero + Adapters en voor £4 koop je de Pi Zero kaal (als hij op dat moment op voorraad is). Scheelt toch wel even €12 per stuk, oftewel: 3x Pi Zero zonder alles versus 1x Micro Bit (+ USB kabel + batterijhouder + 2 AAA batterijen).
Het is natuurlijk ook wel een beetje appels met peren vergelijken. De Pi Zero en de Micro Bit zijn heel verschillende apparaten. De ene is closed source, de andere niet (en dat betekent waarschijnlijk dat de Micro Bit ook echt nog wel in prijs gaat zakken). De ene draait op Linux, de andere op een embedded systeem. Beiden hebben nu al heel wat onderwijsmateriaal. Kortom, je zult je echt moeten gaan afvragen of je die 3x Pi Zero kaal koopt of toch die €17 wilt uitgeven voor een Micro Bit.
Wie heeft er een scenario dat beter geschikt is voor de ene of de andere optie?