Op Kickstarter loopt op dit moment een interessante actie. Het gaat om de Cubetto van PrimoToys.
Het ziet er uit als een houten doosje op wielen met een bord waar kinderen (vanaf 3 jaar) blokjes op kunnen leggen. Die blokjes vormen het programma voor de Cubetto.
Het concept lijkt erg op wat je met de Bee-Bot al programmeer je hier niet direct op de robot zelf, maar op een apart bord.
De reden waarom ik de Cubetto zo interessant vind, is dat dit niet zomaar een Kickstarter is die op een namiddag in een schuurtje verzonnen is. Als je de Kickstarter pagina bekijkt, dan zie je dat er heel wat werk al gedaan is.
Sowieso al in het ontwerp. Dat is neutraal zodat het zowel jongens als meisjes zou moeten aanspreken. Maar omdat het met vormen, geluiden en beweging werkt zou het ook voor slechtziende of blinde kinderen bruikbaar moeten zijn.
Daarnaast wordt uitgelegd waarom het zou passen bij Montessori onderwijs, welke programmeercomponenten afgedekt worden (Algorithms, The Queue, Debugging, Recursions, Infinite Loops), ze verwijzen naar een (concept) docentenhandleiding (PDF) en naar een document met case studies/voorbeelden van een groot aantal scholen/onderwijssoorten/werkvormen (PDF) al kon ik nog niet het hele lijstje terug vinden in het document. Op hun website hebben ze het over 800 scholen wereldwijd die al met de bèta versie expe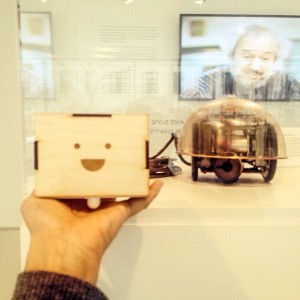 rimenteren/werken.
Kortom, er is al heel wat uitgezocht en bekend. En ze zijn daarbij niet vergeten dat zij dat niet allemaal zelf bedacht hebben:
We're also here because of the pioneering work of educators and technologists like Seymour Papert and Jean Piaget (fathers of the Logo programming language) and Maria Montessori, who gave us an amazing framework for development, and some very broad shoulders to stand on indeed.
Tot slot heeft de manier waarop het geheel opgebouwd is ook wel iets aantrekkelijks. Geen plastic robotjes, ook geen schermpjes en zichtbare elektronica. Tastbare blokken die de basisbeginselen van programmeren bijbrengen.
De Kickstarter actie loopt nog tot 7 april 2016. Gezien het bedrag dat ze nu al binnen hebben, verwacht ik wel dat ze het gaan halen. De prijs is inmiddels gestegen naar $165 bij de volgende staffel wordt het $175.