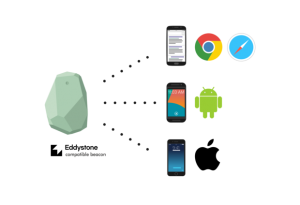 Tijdens de Bett 2016 was er maar één sessie over en geen enkele aanbieder. Maar ik ben nog steeds hoopvol dat dat in 2017 anders zal zijn nu ook Google steeds verder komt met het implementeren van hun open source implementaties van beacons.
Ze hebben nu ondersteuning toegevoegd voor Eddystone aan de beta voor Chrome voor Android nadat ook iOS al ondersteuning had voor deze beacons.
En ja, het is zeker niet alleen "Apple versus Google" (en ook niet helemaal nieuw), maar eigenlijk toch ook wel weer wel. Het is daarnaast ook wel een gevecht tussen concepten. En ik moet bekennen dat ik de Google / Eddystone aanpak wel prettig vind. Gebruik maken van "simpele" URLs en het idee dat je niet verschillende apps nodig hebt voor het ontvangen van de data van de verschillende beacons.
Gelukkig is het ook zo dat voor (veel? alle?) bestaande hardware updates beschikbaar zijn die ze voor beide systemen geschikt maken.
Echt moeilijk is het dus allemaal zijn. Lijkt me eigenlijk wel de moeite van een test waard. Waar voor?
Nou, bijvoorbeeld om een locatiesysteem te maken voor in ons I/O gebouw. Er zijn al tools die iBeacon ondersteunen zodat je ook binnen exact kunt doorgeven waar je bent. Of voor een speurtocht door het gebouw met opdrachten voor de klassen die op bezoek komen in het iXperium. Of voor het aanbieden van extra info bij de verschillende kunstwerken en tijdelijke exposities (in de vitrines) in het gebouw. Of voor het snel opvragen van de aanbiedingen van de kantine als je er langs loopt….