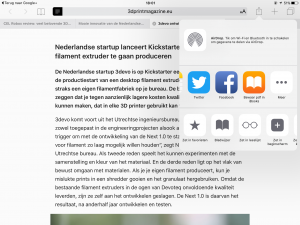 Het kan zijn dat ik zo meteen een reactie krijg dat "dit er al jaren in zit" (dat betwijfel ik overigens), maar het was een feature die ik nog niet kende. Natuurlijk wist ik van de optie om op iOS PDF aan te maken. Dat was voor mij ook niet nieuw. Maar wat ik nu tegen kwam was een extra optie zodra ik in Safari (ik zie het niet in Chrome) overschakel naar de "reader" weergave. Dat is de weergave waarbij Safari alle extra zooi op een pagina verwijdert.
Bij de "delen" optie zit dan, naast de optie om een link te tweeten of op facebook te delen, nu ook de optie om een PDF-versie van de pagina op te slaan in iBooks. En dat is een handige functie, want die maakt dan namelijk gebruik van de "reader"-weergave van de pagina. De tools die ik tot nu toe tegen kwam op iOS voor het maken van PDF's van webpagina's gaan namelijk uit van de volledige weergave van pagina's, dus inclusief alle reclame en andere zooi.
Nou is iBooks wellicht niet dé plek voor het lezen van PDF-bestanden, maar vanuit iBooks kun je de PDF via mail naar jezelf of iemand anders versturen.
Al met al een handige optie, jammer dat hij niet ook in Google Chrome aanwezig is, want die browser gebruik ik vaker.