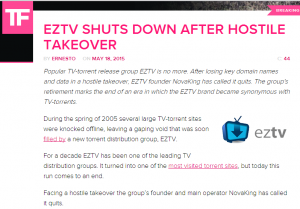 Als je geen idee hebt wie of wat EZTV is of was, dan is dit bericht niet voor jou. Weet je dat wel, lees dan zeker even dit bericht!
Geen idee wie de opvolger wordt.
Zucht. Zou het nou zo raar zijn als ik voor het bedrag dat ik maandelijks aan Ziggo moet betalen voor TV, ik gewoon naar een site zoals EZTV was kon gaan om daar die shows te downloaden die ik wil zien? En dan echt gewoon zoals ze daar worden aangeboden: alle seizoenen van alles wat er geproduceerd wordt? Ik snap wel dat er ingewikkelde verdienmodellen achter al die TV-netwerken zitten, maar dan kregen ze tenminste geld van al die mensen die echt niet zitten te wachten op NCIS afleveringen van 10 jaar geleden. Gewoon, omdat ze die 10 jaar geleden al gezien hebben (en er toen ook al voor betaald hebben via abonnement + kijk/luistergeld).