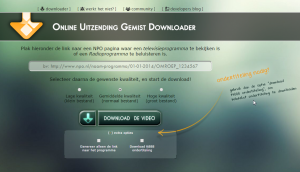 Stel, er was gisterenavond een programma op de publieke omroep dat je nog niet gezien hebt, maar waar iedereen over praat (nee, niet BZV, maar vooruit als jij dat wil, dan mag dat in dit voorbeeld). Dan kun je die tegenwoordig bij http://www.npo.nl/uitzending-gemist vinden. Maar stel ook dat je vandaag onderweg bent, met de trein of de bus.
Dan wil je liever niet met de wifi in de trein, de gratis Hermes wifi en eigenlijk ook niet met 3G of 4G gaan rommelen (zeg nou zelf: wie heeft er al eens een uur lang betrouwbaar in een rijdend voertuig een video via een mobiele dataverbinding bekeken?). Kortom: er zit niks anders op dan het programma voordat je van huis gaat te downloaden. Maar ja, dat is natuurlijk geen optie bij uitzending gemist. In verband met auteursrechten en zo.
Gelukkig is er op het moment (geen idee hoe lang ze in de lucht blijven) een heel gemakkelijke optie: http://www.downloadgemist.nl/
Ik moet bekennen dat ik hem nog niet uitgebreid getest heb, maar de drie uitzendingen die ik vanochtend gedownload heb voor in de trein kwamen probleemloos op mijn laptop. Het zijn .m4v bestanden en als het goed is ook probleemloos op een tablet/smartphone te bekijken.
Het is er eentje die zeker een plekje in mijn favorieten houdt.