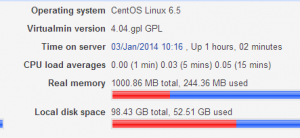 Er is een eerste keer voor alles, zeker als het jaar nog jong is, maar zover ik me kan herinneren was dit de eerste keer dat mijn virtuele server keihard onderuit gegaan lijkt te zijn. Natuurlijk net als ik even een uurtje de deur uit ben en natuurlijk ook nog op een manier die er voor zorgde dat bij de automatische herstart, de verschillende sites niet ook automatisch weer in de lucht kwamen.
De oorzaak van de crash weet ik nog niet (als er iemand weet welke logbestanden ik zou kunnen bekijken om daar achter te komen, dan hoor ik het graag). De oorzaak van het niet weer in de lucht komen was dat de MySQL server het niet leuk vond dat de server onderuit gegaan was. Hij weigerde daarom opnieuw op te starten. Als ik vanuit Virtualmin probeerde de server op te starten, kreeg ik de melding "Another MySQL daemon already running with the same unix socket".
Even snel zoeken op Google leverde de oplossing op Stackoverflow:
# mv /var/lib/mysql/mysql.sock /var/lib/mysql/mysql.sock.bak
# service mysqld start
Daarna was de server weer in de lucht.