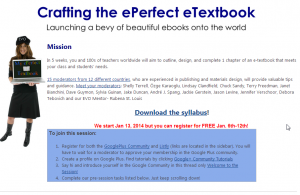 Ze noemen het zelf geen MOOC, maar waarschijnlijk zou het tegenwoordig best onder die noemer kunnen vallen, dit initiatief getiteld "Crafting the ePerfect eTextbook".
Want zelfs als ze geen Massive hoeveelheid deelnemers bij elkaar weten te krijgen (je kunt nog mee doen, ze starten 13 januari 2014, de participants kaart is nog best leeg), dan hebben ze in ieder geval een Massive hoeveelheid moderators (15 moderators van 12 verschillende landen) en ze gebruiken een Massive hoeveelheid verschillende tools (geen exacte telling gemaakt) tijdens de vijf weken.
Doel: samen werken aan een eTextbook voor jouw vakgebied. Nou is daarbij een beetje de vraag of je voldoende co-auteurs of mensen die binnen jouw vakgebied mee willen/kunnen denken als je een eTextbook in het Nederlands zou willen ontwikkelen.
Één ding is wel duidelijk: de cursus/MOOC/het project is goed voorbereid. Het materiaal, de opdrachten, achtergrondmateriaal voor de vijf weken staat al online. Zie bijvoorbeeld de sylabus die te lezen is in Google Docs (en te downloaden).
Ik ga geen tijd hebben om hier aan deel te nemen, mocht een van jullie dat wel gaan doen, dan hoor ik graag je ervaringen!