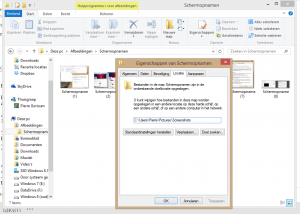 Een van de handige features in Windows 8.1 vind ik de verbeterde ondersteuning voor het maken van schermafbeeldingen. Ik weet niet of dat in Windows 8.0 ook al zo was, maar voor Windows 7 gebruikte ik daar nog een los tooltje voor. Dat heb ik nu niet meer nodig. Met de Windows + Printscreen knop maak ik nu eenvoudig een schermafbeelding die automatisch als bestand in een vaste map wordt opgeslagen. Als ik die afbeelding dan bekijk en er met de rechtermuisknop op klik, dan krijg ik de optie om hem eenvoudig bij te snijden en weer op te slaan (als nieuw bestand of over het oude bestand heen). Standaard maakt Windows 8.1 de map voor Schermopnamen aan onder de map Afbeeldingen op je PC. Maar omdat het wel eens voor komt dat ik de schermafbeeldingen op de ene computer maak (bijvoorbeeld mijn desktop op mijn studeerkamer) en dan de blogpost type op mijn laptop, vond ik het handiger om deze afbeeldingen via Dropbox beschikbaar te maken voor beide computers (eigenlijk alle computers/tablets waar ik Dropbox draai). Dat kan eenvoudig door de standaardmap waar Windows 8.1 de schermafbeeldingen maakt te verplaatsen.
Door in de verkenner met de rechtermuisknop op de map Schermafbeeldingen te klikken kreeg ik de mogelijkheid om Eigenschappen te kiezen en daarbinnen dan het tabblad Locatie. Daar kun je dan een map kiezen binnen je Dropbox mappen en als je dan op Verplaatsen klikt, dan worden de bestaande schermafbeeldingen ook verplaatst naar de nieuwe locatie (en de map onder Afbeeldingen wordt netjes verwijderd).
Handig!
p.s. Natuurlijk kun je de map ook naar een andere plek verplaatsen, bijvoorbeeld naar je Skydrive map, een netwerk-map of waar dan ook.